---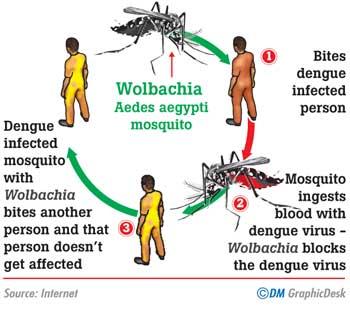 By Sheain Fernandopulle
The pilot project to release Wolbachia to Dematagoda and Nugegoda will take place on March 2, National Dengue Control Unit (NDCU) Director Dr. Anura Jayasekera said.
He told Daily Mirror the bacteria 'Wolbachia' is to be injected into the bodies of the Aedes aegypti mosquitoes -- the main carriers of the dengue virus.
Wolbachia, a naturally occurring bacterium, which can stop mosquitoes from transmitting an infection to humans, is a mean to curb the spread of the dengue virus.
Dr. Jayasekera said Wolbachia is found in up to 60% of insects, but not usually in Aedes aegypti mosquitoes, the primary vector of dengue and that the awareness programme on this matter was held on February 17.

"This is an advantageous prevention method because it does not require genetic modification, is not toxic and is self-sustaining, making it cost-effective as well," he said. "Cases of dengue infection have declined significantly and drastically in the 13 counties including Australia, Brazil, Indonesia and Vietnam where lab-grown mosquitoes carrying Wolbachia were released.
Meanwhile, Dr. Jayasekera said they were hoping to launch several such programmes this year to reduce dengue infection and in a special manner, "we have compiled a special strategic plan to address this issue considering the increasing trend of dengue cases during the past 10 years".