---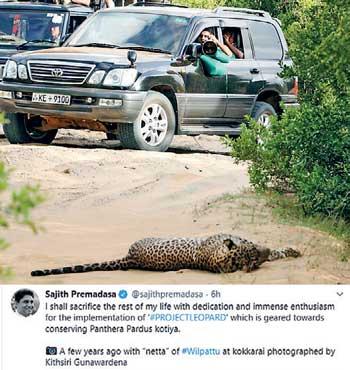 Defeated UNF presidential candidate Sajith Premadasa had said he would dedicate the rest of his life to protect and preserve local leopards.
Stressing that many Buddhists had lost faith in the UNP, the premier said he would instruct younger members of the party to formulate a programme to win the confidence of Buddhists which, he said, would be a challenge.

Furthermore, he underscored the need to carry out a review on election results to determine reasons for the defeat of NDF presidential contender Sajith Premadasa. He had also stressed the need to formulate short and long terms plans to re-organise the party.

Attending the meeting, a party leader who wished to remain anonymous said the premier mentioned that a new generation of leaders should undertake the task of re-organising the party.
In a tweet, he said he would dedicate his life to implement a project themed 'Protect Leopards.'
Mr. Premadasa secured second place at the recently concluded presidential election polling 5,564,239 votes.