---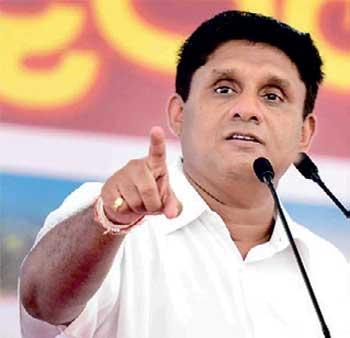 By Ajith Siriwardana
New Democratic Front (NDF) presidential candidate Sajith Premadasa said yesterday he would focus on e-governance in a bid to introduce an artificial intelligence management dashboard at the Presidential Secretariat thus enabling the formulation of novel concepts to address the burning issues of people.
He said this addressing an event titled 'Mega Mind' held recently at Waters Edge in Colombo.

He explained with examples how he intended implementing the concept of artificial intelligence management dashboard by contacting officials of government institutions over the phone to get statistics and updates on relevant institutions and strategies to address certain issues.

"This mechanism will enable me to get updates and statistics on whatever the field and institution I wish. I will not have to call on government officials to the Presidential Secretariat for discussions anymore. This will save their valuable time and public money. Technology-based governance will ensure efficient and productive governance while adding value to the country," he said.

He said he would focus governance on the economy based on sustainable development and society with improved human capital.

"Our attention is drawn to develop the economy based on new technology and science. We will dedicate ourselves to create human capital to win the future world. We will capitalise on the skills and knowledge of professionals when it comes to economic development," he said.

Meanwhile, Minister Patali Champika Ranawaka said they were working on the NDF manifesto which was scheduled to be released by this month end.

"We are seeking ideas and opinions on formulating the manifesto. This presidential election is crucial as it will be the mother of all elections ahead of a general election and provincial council poll. This presidential election will be decisive to establish a stable government," he said.
Our attention is drawn to develop the economy based on new technology and science. We will dedicate ourselves to create human capital to win the future world