---
I met and invited him and his party to join the Samagi Jana Balawegaya and he will also participate in the SJB launch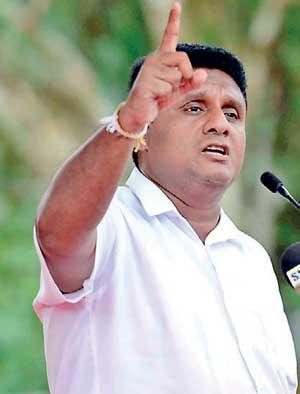 By Yohan Perera

Leader of Opposition Sajith Premadasa yesterday said he had invited UNP Leader Ranil Wickremesinghe to join the Samagi Jana Balawegaya together with his party.
Mr. Premadasa told a press conference that he had met Mr. Wickremesinghe together with Samagi Jana Balawegaya General Secretary Ranjith Madduma Bandara and invited him and the UNP to join the alliance and to participate in the launch of the new alliance at Nelum Pokuna on March 2 2020.

"I met Mr. Wickremesinghe and invited him and his party to join the Samagi Jana Balawegaya and he will also participate in the launch and the MoU signing ceremony on March 2, 2020,"
Mr. Premadasa said.

Asked under what symbol his alliance would contest the general election, Mr. Premadasa said these will be decided upon later. "We will go step by step and everything will be decided upon soon," he said. Meanwhile, Tamil Progressive Alliance (TPA) led by MP Mano Ganesan officially joined the new alliance yesterday and announced the new move at the joint press conference with Mr. Premadasa. Accordingly all three parties which include TPA, namely Democratic People's Front, Up Country People's Front and the National Union
of Workers will contest the general election with Samgai Jana Balawegaya.

"We have officially joined the new alliance led by Mr. Premadasa and will work towards forming a new government," Mr. Ganesan said.
I met Mr. Wickremesinghe and invited him and his party to join Samagi Jana Balawegaya and he will also participate in the launch and the MoU signing ceremony on March 2, 2020