---
He said he is positioned differently in politics today as the leader of the main political force which is alternative to the government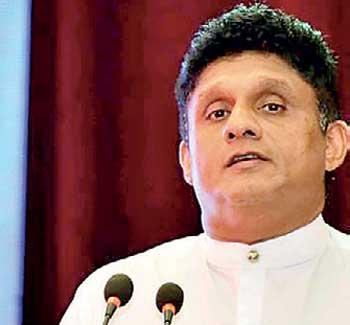 By Yohan Perera
Opposition Leader Sajith Premadasa said he faced many an obstacle from others in discharging his duties as a minister but then President Maithripala Sirisena stood by him providing every possible assistance.
Mr. Premadasa who was speaking during the opposition leader's mobile service in Kirinda in Hambamtota District said the former President supported him and even allocated money for him to work when others were trying to sabotage his work during the term of the previous regime.
"Many were trying to sabotage my work during the last regime. However there was one person who supported me. It was former President Maithtripala Sirisena. He may have weaknesses, but he supported me and even allocated funds and allowed me to work," Mr. Prenmadasa said.

However, he said he is positioned differently in politics today as the leader of the main political force which is alternative to the government, and therefore nobody can pull his leg.

"I would also say that no one in SJB can oust me. If anyone is out to sabotage my work in the SJB, they can leave the party. I am no longer the Cabinet Minister Premadasa but the alternate leader of the nation. I have got the authority to lead my party," he added.

"The government has proved that it has been unable to get AstraZeneca vaccine to give the second dose to the people. Plans are afoot to arrest opposition MPs including Harin Fernando who speaks the truth about the Easter Sunday attacks. Government pledged to uncover the mastermind behind the Easter attacks and not to arrest opposition MPs," he also said.
I am no longer the Cabinet Minister Premadasa but the alternate leader of the nation. I have got the authority to lead my party