---
Parliament likely to be dissolved after Feb.'20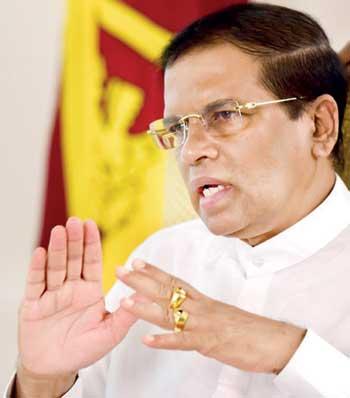 By Sandun A Jayasekera
The SLFP is seriously considering whether to seek a Supreme Court ruling on when President Maithripala Sirisena's five-year term of office expires under the 19th Amendment on the basis that it was signed into law by Speaker Karu Jayasuriya on June 21, 2015 General Secretary and MP, Dayasiri Jayasekara said.
He said the President was likely to dissolve Parliament after it completes four and half years of its term and go for an early general election.

The MP said the effective date of the 19th Amendment is June 21 and as such the President's five-year term should be counted from that day and that means he will remain as the executive president until June 20, 2020 and not January 8, 2020 when counting from January 9, 2015, the day on which the President was sworn in.

"This is why the SLFP is likely to seek an SC ruling on this highly sensitive issue and right now we are consulting our lawyers. Another school of thought is that the 19th Amendment does not have any retrospective effect. As such the five years must be counted from June 20, 2015," he said.

Referring to the power vested in the President to dissolve Parliament after four and half years into its term, the MP said the President was likely to dissolve Parliament in February 2020.
"We are clear on this matter based on the SC ruling on the dissolution of Parliament while all political parties are calling for an early general election. The SLFP will support the President's decision," he said.
The President's five-year term should be counted from that day and that means he will remain as the executive president until June 20, 2020 and not January 8, 2020