---
The 19th Amendment to the Constitution was based on the principles which Buddha preached in his sermon to Lichchavi Kings
There is no point shouting if you don't practice the philosophy. Therefore, one must follow the law of the nation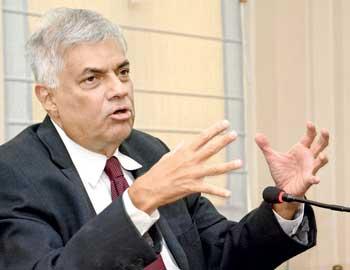 By Yohan Perera

Prime Minister Ranil Wickremesinghe over the weekend invited all parties to join in the struggle to safeguard the 19th Amendment to the Constitution.
Mr. Wickremesinghe made this call at an almsgiving held in Thambalagamuwa Raja Maha Viharaya in Kantale on Saturday.

"The 19th Amendment to the Constitution was based on the principles which Buddha preached in his sermon to Lichchavi Kings. There is a threat today to this piece of legislation.
Leaders should act in line with democratic principles. Some leaders seemed to be working against these principles and apparently tries to cause destruction in the past.

We have decided to form a broad alliance to safeguard democracy. I would like to invite all forces" Mr. Wickremesinghe said.

"Some shout about giving foremost position to Buddhism. They don't practice the principles of Buddhism despite the big noise.

There is no point shouting if you don't practice the philosophy. Therefore, one must follow the law of the nation," he added.
There is a threat today to this piece of legislation. Leaders should act in line with democratic principles
Some shout about giving foremost position to Buddhism. They don't practice the principles of Buddhism despite the big noise