---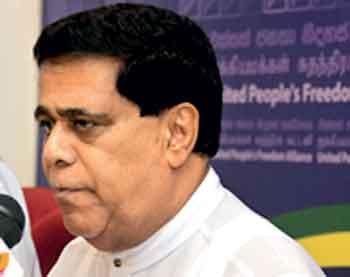 By Sandun A Jayasekera
The Provincial Council elections would be held under the old system soon after the Parliamentary polls and after necessary amendments were introduced to the Provincial Councils Elections (amendment) Act no. 17 of 2017, Justice, Human Rights and Legal Reforms Minister Nimal Siripala De Silva said yesterday.

Minister Silva added that the all courts from Labour Tribunals to District and High Court will be digitalised to put an end to 'Laws Delays'.

Addressing a ceremony held to distribute digital cameras and equipment to 103 court to digitally record courts production like vehicles, timber, sands and stones and many other court productions that have been confiscated by the courts under Judicial Service Commission (JSC) circular 422, Minister De Silva went onto say that the amendments to the PC election law were being drafted right now.

The draft amendments are being drafted as a collective effort of the Justice, Human Rights and Law Reforms Ministry and the Public Administration, Local Government and Provincial Councils Ministry. People are extremely worried for the continuous delay in conducting PC polls as the people have been affected the delay as there are no people's representatives to attend to their grievances. The issue of whether Sri Lanka needs provincial council system is a matter that has to be discussed in a different forum. But it is our duty and responsibility to hold PC polls at the first opportunity we get, Minister De Silva stressed.

"I visited a number of courts and found the courts premises had been filled with courts productions dumped in a haphazard manner. Some court premises had been turned into mosquito breeding grounds and the sight was extremely nauseating and unpleasant. Some action has to be taken to rectify this situation," he added.

It is sad to note that the Judicial Service Commission nor the Justice Ministry had taken action to prevent this sorry state of affairs at the courts. But the Gotabaya Rajapaksa government looks at each and every problem with a new and pragmatic point of view. These new measures are intended to do a difference for good, Minister De Silva emphasized.

Commenting on the no action by the JSC, Minister De Silva charged that there was a habit in the public sector to put circulars, guidelines and instructions on the back burner giving way for inefficiency, delays and no action at all. This is the virus infected with the public service. The responsibility of any government should be able to provide maximum possible facilities to litigants to get justice with least possible efforts. That is what the current government is trying to do.

However, Minister De Silva admitted that Sri Lanka's court system runs under extreme difficulty and with insufficient facilities. The Court of Appeal and the Supreme Court do not have enough judges. There are a large number of divorce cases delayed in our courts, he added.
I visited a number of courts and found the courts premises had been filled with courts productions dumped in a haphazard manner