---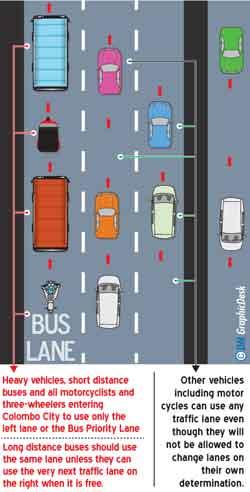 By Darshana Sanjeewa Balasuriya
The Police yesterday requested all motorcyclists and three-wheelers entering the Colombo City from today to use only the left lane or the Bus Priority Lane from today.
Western Province Senior DIG Deshabandhu Tennakoon said this move would operate from tomorrow on an experimental basis to ease the traffic congestion in Colombo.
He said many motorcyclists and three-wheeler drivers did not maintain road discipline and this added to the traffic congestion.

"We request all motorcyclists and three-wheeler drivers to use the left lane allocated to buses thereby allowing other vehicles to use the other lanes," DIG Tennakoon said. "There may be a slight delay when a bus stops at a bus-halt.We request the three-wheeler drivers to follow the buses and act with patience. If all drivers drive across all lanes, we won't be able to establish discipline or reduce the traffic snarl," the DIG said.

He said heavy vehicles such as containers entering Colombo are also contributing to the increased traffic and the Police were discussing with relevant authorities to address this issue as well.

"We began the lane priority law programme on Monday and it will be in force till Wednesday morning to study the traffic congestion in the Colombo City. Most of the drivers are apparently happy about the programme and we hope to rectify issues so as to maintain road discipline similar to developed countries," the DIG said.
Heavy vehicles such as containers entering Colombo are also contributing to the increased traffic and the Police were discussing with relevant authorities to address this issue as well