---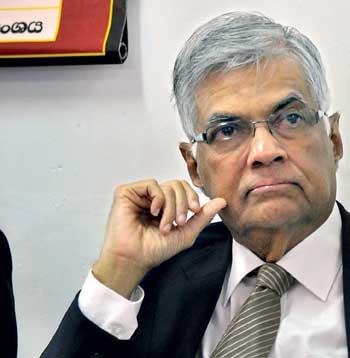 By Yohan Perera
Stating that there is a fresh conspiracy to disrupt the country through creating unrest among the people of various religious and ethnic groups, the Prime Minister Ranil Wickremesinghe said government would do its utmost to defeat these efforts.
Prime Minister made these remarks at the opening of two storied building at Parahadeniya National School and at the 'Jana Hamuwa' in Mawathagama yesterday.

"There is a conspiracy by certain groups to create unrest among religious and ethnic groups by certain forces. This is being done to fulfill their political aspirations. We will face this conspiracy successfully and will defeat it," the Prime Minister said.

"Muslims have supported the Sinhalese and protected them in the past. We should think as Sri Lankans and should push the nation towards development. Some are trying to corner Muslims pasting the label of extremism on them. There are extremists in any ethnic and religious groups. We should disassociate with extremists and should work with the moderates," the Prime Minister added.

Prime Minister also stressed the need for a stable government saying political stability will help speedy development. "We do not have a majority in Parliament currently. However, we have managed to implement development programmes successfully.

"We have provided new buildings to schools under the 'Langama Pasala Hondama Pasala' programme, provided lands to the landless and had done many other work under the 'Gam Peraliya' programme. We would have been able to increase the volume of development work by ten times if we had a proper majority," the Prime Minister said in this regard.
Minister of Education Akila Viraj Kariyawasam and Minister of Internal Affairs Vajira Abeywardene and Minister of Lands and Parliamentary Affairs Gayantha Karunatilleke were also present at the ceremony.