---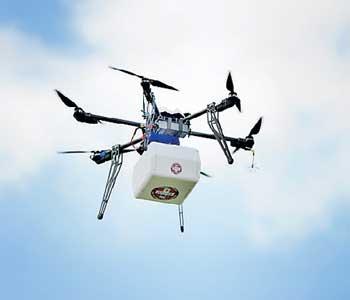 By Dayaseeli Liyanage
A team of specialist doctors has pointed out to the Ministry of Health that the drone technology can be used to transport blood and injections needed urgently to a hospital in any part of the island.
Authorities face practical problems such as wastage of time when such things are transported by vehicles which is the only system currently used to transport medicine in cases of urgency.
Cardiologist Gotabaya Ranasinghe of the National Hospital, Colombo has pointed out that providing medicines urgently is a decisive factor in saving lives of the patients and drones will help to resolve this matter.
He further stated that the drone can transport about 2 kilograms of materials at a speed of 100 km per hour.
Dr. Ranasinghe said that drones are used to provide health facilities in countries such as Rwanda and Ghana where around 22 million people in those countries are facilitated by drones. In Sri Lanka drones are currently used to observe deforestation, environmental effects of development projects and the effects of human-elephant conflict and they can be used to provide medical facilities in the same way, he argued.