---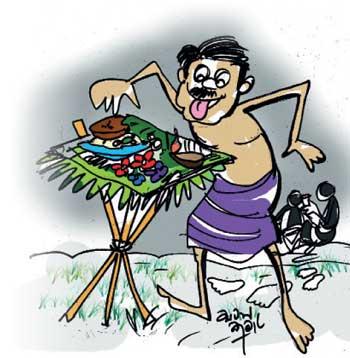 By S. A. Y. De Silva
The story of a deceased mother visiting her home on the seventh day and eating a slice of fried fish from the Pideni Thattuwa is related from a village in Ambalangoda.
The aged mother of an individual passed away recently. On the seventh day an alms giving was prepared as customary. A special plate of rice with a slice of fried fish was placed outside on the Pideni Thattuwa before the religious rites being conducted on the previous evening.

Meanwhile, a person who had arrived at the house and after having had some stuff was eager to have a bite and seeing the fried fish on the platter lost no time in sharing it with the friends who had gathered there.

The son who was anxious in finding out whether his dead mother would have come to partake at the special meal offered as Dana, was amazed to observe the slice of fried fish gone missing, but however he felt happy as he fully believed that it was the spirit of his mother who had eaten it.

To prove his belief there was a foot print on the sandy soil near the place where the Pideni Thattuwa was placed. Having being made to believe this he was overjoyed and revealed to the others at the house that his mother had come and eaten the fried fish which she was very fond when she was living. Despite others making him aware that it was the same fish that the friends had for their bite, he was not convinced and continued to believe that it was his mother who had eaten the fried fish.