---
Received through parcel mail from US, UK and Netherlands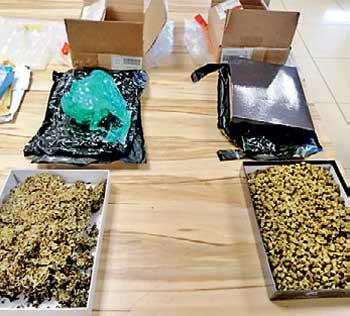 By Kurulu Koojana Kariyakarawana
Stocks of Cocaine and a fine variety of Cannabis called 'Kush' worth over Rs.8.2 million, which had been sent through three parcel mails from the United States, the United Kingdom and the Netherlands were seized by Customs officials at the Central Mail Exchange yesterday.

Customs Spokesman Additional Director General Sunil Jayaratne said two parcels contained 450 grams of Kush cannabis and another contained 80 grams of Cocaine.

Officials of the Customs Narcotic Control Unit on suspicion held back the three parcels that had come from the said countries consigned to three different addresses in Colombo, Wadduwa and Ahangama about a month ago.
As the Customs felt something suspicious about the parcels, they had held it back instead of being delivered to the consigned addresses by the Central Mail Exchange in Fort.

Since, nobody had come to claim the parcels the officials had decided to open them to find the narcotics. The consigned addresses were also later found to be false.

The two stocks of Kush were found concealed inside an electrical main switch box and a box of water colours, whilst the Cocaine was found concealed inside a cellular phone power bank.

ADG Jayaratne said since there were strict regulations in place to monitor drugs being sent into the country, the perpetrators have resorted to sending them through small parcels by mail.

Customs Narcotic Control Unit Superintendents H D G Sumathipala and Hasantha Guruge with Deputy Superintendents Nuwan Abeynayake, Srilal Wijewardena and A K R Samanjith are conducting investigations on the instructions of Customs Director General Vijitha Ravipriya, Customs Director of Social Protection Ashoka Balasuriya and Deputy Director Narcotic Control Unit Ajith Duminda.

The seized drugs had been handed over to the Police Narcotic Bureau (PNB) for further investigations.