---

Curfew restrictions should not be lifted in affected localities whatsoever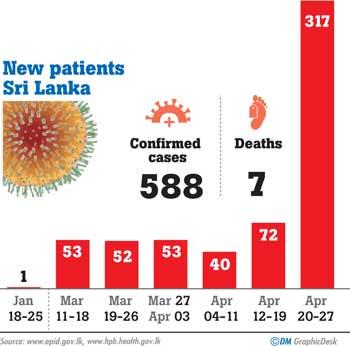 By Kelum Bandara
The sudden rise in the number of COVID-19 patients to 588 as of last evening is an alarming sign that calls for stringent control measures, an official said.
Assistant Secretary to the Government Medical Officers' Association (GMOA), Navin de Zoysa told Daily Mirror though patients were reported from identified clusters, there was a surge in the number of patients and clusters alike.

He said it was an alarming sign and therefore further restrictions needed to be imposed in the greater interest of the society. "Curfew restrictions should not be lifted in affected localities whatsoever," he said.
When asked about difficulties in carrying out control measures, he said some people did not follow health precautions and guidelines.

As of last evening, 588 cases have been reported in Sri Lanka. Of them, 180 cases are from the navy base in Welisara.