---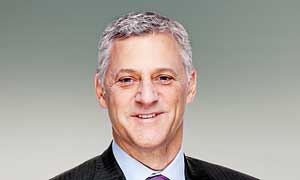 REUTERS: Already faced with a battle to revive the fortunes of banking group Standard Chartered , new Chief Executive Bill Winters is now confronted with another challenge in the shape of China's yuan devaluation.

Just over a week after Winters outlined his plans to revive the bank after a slump in profits, analysts say his turnaround efforts could be hampered by the yuan devaluation which threatens to increase bad debts in Asia and weaken other currencies in the region.

London-based Standard Chartered is the European bank most exposed to Asia's economic weakness and currency volatility, which come just as Winters launches his attempts to lift the bank's fortunes and improve profitability.

"We think that asset quality will continue to deteriorate and the worst is yet to come," said Barry Norris, Chief Investment Officer at Argonaut, a fund that has a short position on the stock.

The bank, for many years a favourite among investors because of its exposure to fast-growing Asian economies, had already come under pressure from rising losses on loans to commodities clients and to customers in China, India and elsewhere.

Southeast Asia (ASEAN), where Standard Chartered generates 19 percent of revenue and has 26 percent of loans, could be particularly impacted by currency turmoil, analysts said.

Shares in Standard Chartered, which have more than halved in value since hitting a record 1,975 pence in late 2010, are down 3.4 percent since China's devaluation and HSBC is down 2.7 percent. By comparison European banks as a whole are down 2.3 percent.

The relatively muted reaction is because a rise in bad debts had already been forecast at StanChart and there were concerns about China's slowdown, analysts said. The impact of weaker Asian currencies on revenue is also partly offset by a reduction in local expenses, such as wages, in dollar terms.
Credit Quality





But some say worse is to come.


"We believe ASEAN credit quality is set to deteriorate further, as existing trends are exacerbated by yuan devaluation," said Joseph Dickerson, analyst at brokerage Jefferies.

He rates Standard Chartered "underperform" and has cut his price target on the stock to 602 pence from 656p.

Other analysts have also downgraded this week, with Nomura for instance cutting its target to 1055p from 1170p with a "neutral" rating.

China's yuan depreciation has sparked jitters as its economy is slowing and it could start a "currency war", which dragged other Asian currencies to multi-year lows.

Standard Chartered reports in U.S. dollars so earnings are hit when local currencies weaken against the dollar. Weak local currencies reduced its income by $277 million in the first six months of this year, representing more than one-third of its 8 percent income drop.

Rival HSBC is also heavily exposed to Asia, but is more diversified in Europe and the United States. Its core Hong Kong market also appears less affected by the recent turmoil, analysts said.

Standard Chartered acknowledged moves in the yuan-dollar rate would have a direct impact as it reports in dollars.

"The second-order impact on the Chinese economy and therefore our China-related business is obviously more of a macro (economic) conversation," said a spokeswoman in an email, declining further comment.