---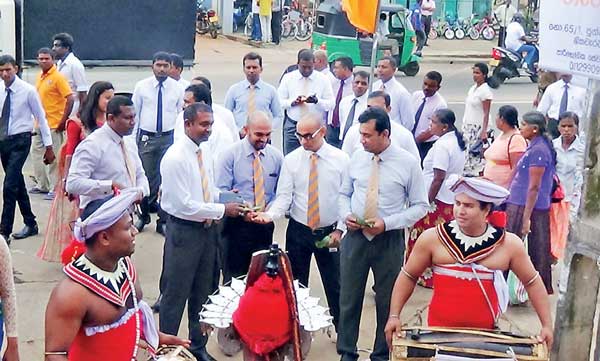 Assistant General Manager Marketing and Distribution Dharshana Amarasiynghe, Head of Sales Cluster 3 Parakrama Embogama and Zonal Manager North Western Manjula Athapattu with the staff of Union Assurance at the branch opening
Union Assurance (UA) relocated its Nikaweratiya regional office recently to provide better services to residents in the area.

The new branch will support the company's pace to reach its goal of having fully operational branches islandwide.
UA's Nikaweratiya branch is conveniently situated with ample parking space, open 8:30 a.m. – 5: p.m. Service areas for life insurance customers, a training centre for staff and many other customer facilities are available at all times.
UA's branch offices offer a wide array of life insurance solutions, for individuals as well as businesses. The branch is also fully information technology (IT) enabled while personal financial advisors (PFA) are equipped with laptops and tabs to service all UA customers quickly and easily even while in the field.

General Manager Marketing Rukman Weeraratne stated, "We are extremely pleased with the relocation of the Nikaweratiya regional office. Opportunities in the region have prompted us to expand rapidly and we continue to aggressively meet the current growth demands. We are also confident in UA's ability to attract experienced talent, which will increase the insurance penetration in the area and ensure excellent customer service, meeting set benchmarks."

The relocated regional branch is situated at No.65/1, Puttlam Road, Nikaweratiya. UA is the first private insurer to celebrate over 28 years of unwavering operations in the country and is anchored by a team of experienced and dynamic professionals, a strong capital base and reinsurance partnerships with highly rated global reinsurers.