---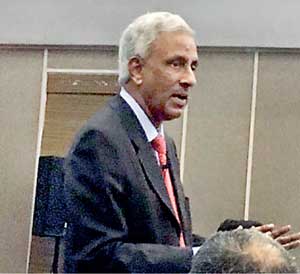 Standard Chartered recently conducted a training session for compliance officers of local banks on the subject of 'Managing the Regulatory Process'.

The session was conducted under the auspices of the Association of Compliance Officers of Banks (ACOB) by Standard Chartered for ASEAN and South Asia Regional Compliance Training Head P. Ananthakrishnan (Ananth), with 48 participants from banks including Indian Overseas Bank, Seylan Bank, Axis, ICICI, NTB, DFCC, Public Bank, Sampath Bank, HDFC, Commercial Bank, MCB, Bank of Ceylon, NDB, Union Bank, SDB, Amana, People's Bank, HSBC and SLS Bank.

Ananth emphasising the importance of putting in place a structured Regulatory Engagement Plan in every bank said, "A disciplined approach towards meeting regulator expectations is essential. The elements of such a Regulatory Engagement Plan must include correspondence, meetings and regulatory inspections. It is very important to have a process in place for orderly identification and dissemination of regulations to various 'risk owners' within the bank so that regulations can be implemented meticulously."

The session further reiterated that all regulations should be risk prioritised based on a risk rating of 'high', 'medium' or 'low', depending on the impact on the institution, with the maximum importance and attention required to be paid to effective controls around the 'high' and 'medium' risk regulations. Compliance is the responsibility of every employee in the bank and not only of the compliance department, as is generally assumed. Ananth stressed that this message should be sent out strongly by the top management to all staff.

Standard Chartered Compliance Head Inam Cassim said, "Ananth has generously included Sri Lanka in his exceedingly demanding training schedule every year for the last five years and we are grateful to be able to share his wide expertise with the industry's compliance officers. We have consistently received very positive feedback and appreciation of these sessions."