---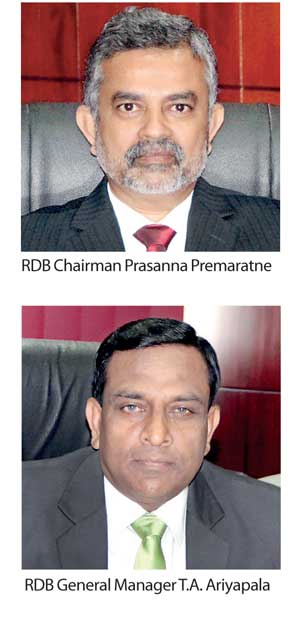 Regional Development Bank (RDB) from its inception in 1985 to empower the self-sufficient Sri Lankans celebrated its 31st anniversary this year. Passing numerous milestones along its journey and generating more than Rs.100 billion in assets for the Sri Lankan economy, the bank has achieved massive progress while uplifting the lifestyles of the people. With over 3000 dedicated employees and an islandwide branch network of 268, RDB caters to a clientele that exceeds over six million.

In the RDB history, a significant triumph was achieved by increasing the convenience of easy banking via an ATM network of over 2500 ATM machines located at every corner of the island. The main objective behind this endeavour is to uplift the lives of villagers in rural areas and towards that end the bank has launched several projects with special benefits. Therefore, the bank has taken steps to provide financial support at a low interest to several projects.

RDB has introduced strategically planned loan schemes in order to bring the benefits of these projects to the people. Therefore, entrepreneurial individuals can select a financial scheme that suits their needs. Under this facility, financial aid is given to agriculture, animal husbandry, fishing industries, business expansions, small-medium entrepreneurs and microfinance.

In addition to these loan schemes, the bank has taken measures to attract and encourage customers to save by introducing saving schemes with special benefits that cater to various age groups.
When it comes to the agriculture sector in Sri Lanka, RDB is one of its biggest loan providers. The bank provides practical solutions to farmers to sell their seeds at a good price. The World Bank through the government of Sri Lanka established mega stores in Galenbidunuwewa and Buththala to help farmers to store their crops till they get a good price and the bank had distributed guaranteed seeds to farmers to get a better yield. Although it was a World Bank project, it was RDB that handled the administration part of this project.

Furthermore, the success of any financial system depends on the satisfaction of the real wants and needs of all communities who utilize the financial facilities provided by the said financial system productively. Based on this theory, RDB has introduced a wide range of savings products suitable for every age group, suiting their needs and specially formulated to attract rural people with low income and guide them towards methodical and long-term savings.

The RDB 'Kekulu' children's savings account has a high interest rate and provides a range of attractive gifts scholarships. The RDB 'Yovun' account has been introduced for teenagers from ages 12 to 18 years. Opportunities have been provided for them to obtain RDB Sinhala - English dictionaries to help in their education and a range of valuable gifts through this account.

The RDB 'Liya Saviya' investment savings account has been introduced to secure the tomorrows of women. Through this savings account empowering women of courage, their savings will get the highest interest and they will be able to obtain financial facilities for their income-generating projects.
The bank has plans to expand its branch network to provide convenient and comfortable service to their customers further more and the bank will continue to provide innovative products that would be an asset in saving your hard-earned money.