---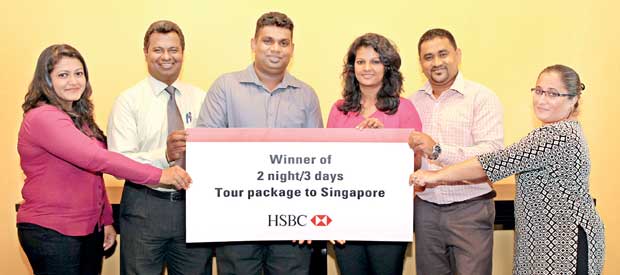 As many Sri Lankans look to vacation and spend time with family during the upcoming holiday season, HSBC is offering convenient and flexible Lifestyle Loans with additional benefits at competitive interest rates to afford customers a complete holiday experience.

Envisioning a well-deserved overseas holiday is now a viable option with HSBC's personal lifestyle loans, starting from a minimum Rs.50,000 to a maximum amount of Rs.5 million. For HSBC Premier and Advance customers the loan values range from Rs.10 million and Rs.7.5 million, respectively and is currently the highest offered to retail banking customers in the market.

With competitive fixed and floating interest rates, HSBC customers can make better informed decisions on their repayment tenures that extend up to five years. What's more, to further enhance the same, customers who apply for a minimum loan amount of Rs.500,000 with a one-year repayment tenure, could stand a chance to win a two night/three-days tour to Singapore every month, until November 30, 2016. Three winners will be selected each month as part of the on-going promotion.
Customers who were selected as the lucky winners for the month of April and May were R.N.R. Ranasinghe, S.P. Perera, P.L.B. Chandrajith, S.U. De Zylva, I.W.A.W. Tharaka and C.R. Thenuwara. They will each receive a complimentary tour package with return air fare, free accommodation at a three-star hotel on B/B basis and airport transfers overseas to spend an enjoyable holiday in Singapore.

HSBC Lifestyle Loans are also available for the purchase of vehicles. Through HSBC's lifestyle car loan customers can obtain up to Rs.7 million to purchase a car with a seven-year repayment period with fixed and floating interest rates.

Applicants who obtain an HSBC lifestyle car loan can avail themselves to a 45 percent discount on the motor insurance basic premium from Allianz Insurance Limited.

Moreover, the first 10 customers to apply for a car loan with a minimum loan amount of Rs.1.5 million with the loan draw down before June 30, 2016, will receive total cash rebates of Rs.15,000 for their revenue licence and technical assessment of their vehicle.

HSBC's Lifestyle Loans are hassle free, as customers who wish to apply for a loan are not required to remit their salary to HSBC, have an existing account, provide guarantors or make an initial down payment. Customers could simply apply for a Lifestyle Loan with HSBC by dialling a designated number and having a personal advisor visit them at home or office for this purpose. HSBC also offers a faster approval process, ensuring a convenient service with less hassle.