---
Commercial Bank of Ceylon has further broadened its social media presence with attractive new offerings on Viber, the free, cross-platform instant messaging and voice over IP (VoIP) app.
The bank currently maintains the only public Chat Account verified by Viber in the banking sector in
Sri Lanka.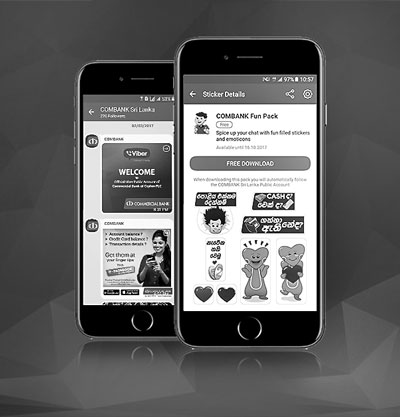 Bringing spice and humour to frequent users, the bank has launched a sticker series on Viber, enabling them to send messages with 24 different expressions. Some of these stickers and emoticons use banking associated lingo in funny dispositions and situations and can be readily inserted into day-to-day conversations between friends
and family.

The official Viber public chat page of Commercial Bank has reached100,000 followers within a short time of its launch. Commercial Bank forayed into social media with its official Facebook page in 2016. The bank said it quickly became one of the most loved and engaged social media pages in the country, becoming famous among regular users for carrying out attractive promotions which give away tickets for a variety of events such as cricket matches, concerts of local and foreign artists and popular films.

The bank's FB site also publishes relevant and inspirational content and is used as a medium to interact and engage with customers beyond product marketing. The success of the Facebook page prompted the Bank to launch itsofficial Viber Public Chat and Instagram pages, the bank said.
Stickers are an integral part of Viber, especially designed for users to express themselves. The bank also uses the app to share information about card offers, post TV advertisements, product promotions and seasonal greetings.

With approximately 7.5 million registered users in Sri Lanka, Viber has been growing exponentially in the country. The phenomenon of branded stickers was introduced by Viber to enable multiple impressions and virality for the sponsor. Paid sticker packs that are free for users provide a way for businesses to generate revenue while increasing their brands' exposure.

One of the world's leading messaging apps with more than 800 million registered users, Viber recently announced that Sri Lanka is now one of its top five sticker markets. The app gives people all over the world the ability to connect in the way that works best for them, whether that is through one-on-one messaging or group chats, voice or video calls, or by following brands and celebrities on Public Chats. Viber can be used on iPhone, iPad, Apple Watch, Android phones and tablets, Windows Phone 8, Windows 10, Mac, and Linux devices over data or Wi-Fi connections.