---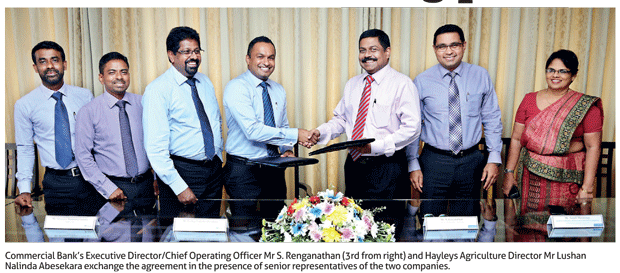 The Commercial Bank of Ceylon and Hayleys Agriculture Holdings Ltd.have joined forces to offer attractive discounts, competitive rentals and special schemes to customers leasing agricultural machinery marketed by the latter.

The promotion,which places emphasis on facilitating the purchase of four-wheel tractors, will run till the end of the year. Customers who take advantage of it will also be eligible for special discounts on agriculture machinery marketed by Hayleys Agriculture, such astractors, combine harvesters, combine threshers, brush cutters andtransplanters during this period.

Under the agreement between the two entities, Hayleys Agriculture will provide substantial discounts for specified agri machinery to Commercial Bank leasing customers, and also arrange local customer gatherings at selected locations island wide. The bank, for its part, will provide competitive monthly rentals, special leasing schemes, and expedite the processing of lease agreements and other related services.

The agreement was signed by the Chief Operating Officer of Commercial Bank, S.Renganathan and two Directors of Hayleys Agriculture, Messrs Lushan Nalinda Abesekara and Siriweera Milidduwa Gamage.

Commenting on the signing of the agreement, Mr Renganathan said:"Commercial Bank has always been at the forefront of supporting small and medium size enterprises. We view this joint effort too as the extension of a helping hand to SME agri businesses in our country."

Sri Lanka's largest and most profitable private bank and the country's most-awarded financial institution, Commercial Bank plays a significant role in the national economy. The bank accounted for 4.31 percent of the total market capitalisation of the Colombo Stock Exchange (CSE) in 2016 with a market capitalisation of US$ 790 million at the end of the year. The bank is the largest lender in Sri Lanka to SMEs, having disbursed Rs 952 billion to the sector over the past five years, and channels 17.82 percent of the country's export volumes and 8.36 percent of its import volumes.

Commercial Bank operates a network of 256 branches and 700 ATMs in Sri Lanka and has won more than 25 international and local awards in 2016 and 2017. The Bank's overseas operations encompass Bangladesh, where the Bank operates 19 outlets, Myanmar, where it has a Representative Office in Yangon, the Maldives, where the Bank has a fully-fledged Tier I Bank with a majority stake and Italy, where the Bank operates its own money transfer service.

Hayleys Agriculture has been spearheading the agriculturesector of Sri Lanka since the 1950s. One of the top-ranked firms in this sphere in the region, it is renowned for a wide array of innovative and sustainable agricultural solutions that cater to the entire agri value chain, and support aquaculture, high-tech horticulture and bio technology applications. The company's value-added agricultural exports to leading multinationals contribute substantially to the processed fruits and vegetable exports of the country.Hayleys Agriculture has established successful overseas operationsin Bangladesh, Maldives and Myanmar, and intends to extend its network across the Asian and African regions.