---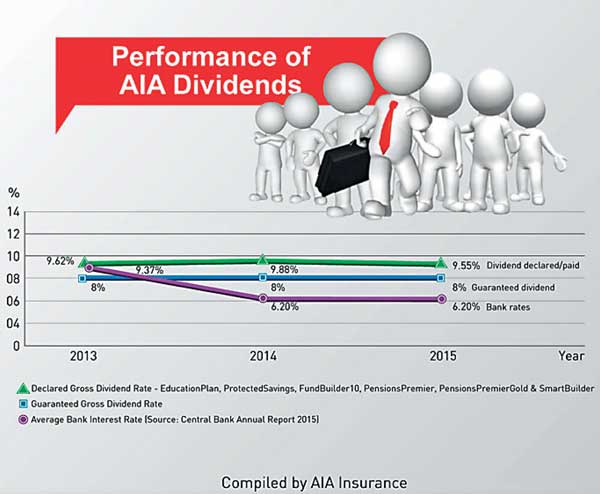 Against the economic scenario last year, which showed the country's gross domestic product (GDP) growth slowing down while inflation increased, AIA Sri Lanka was able to declare an outstanding dividend of 9.55 percent for its policyholders. This showcased the strength and the superlative investment strategy of AIA's life fund, which now stands at Rs.30 billion.

Since AIA introduced the system of declaring an annual dividend, the amount declared every year has always been well above the guaranteed amount promised by the company to its policyholders. The dividend is a significant value addition to the insurer's customers who are already enjoying protection benefits.

How exactly does AIA's dividend system work and how does it affect AIA's customers? AIA Sri Lanka Chief Actuary Frank Munro said, "We are indeed proud to say that this is an excellent proposition we offer our customers, especially during the past three years when our dividend has been consistently higher than the average bank interest rates. Also our policyholders benefit significantly because their premium investments grow with compound interest and not just on a simple interest basis."

He further explained, "The premiums all policyholders pay are collected into a single 'pot' – in other words known as the life fund, which is prudently managed by the company. The dividend is a percentage of the investment earned from the life fund and is credited to each policyholder's individual account after deducting fund management charges. This is a simple, fool-proof and transparent benefit for all AIA customers."

AIA Sri Lanka Deputy Chief Executive Officer and Chief Agency Director Upul Wijesinghe said, "Our unique dividend system simply translates into a bigger lump-sum for each individual policyholder. It is better than the bonus declared by many other insurers because bonuses are calculated on the life fund profits for the period while our dividends are based on the investment income and are not reduced by operating costs.

More importantly, bonuses are not guaranteed to be paid while AIA declares a guaranteed dividend rate at the beginning of each year and the dividend amount that is declared at the end of the year is credited to the policyholders' accounts."