---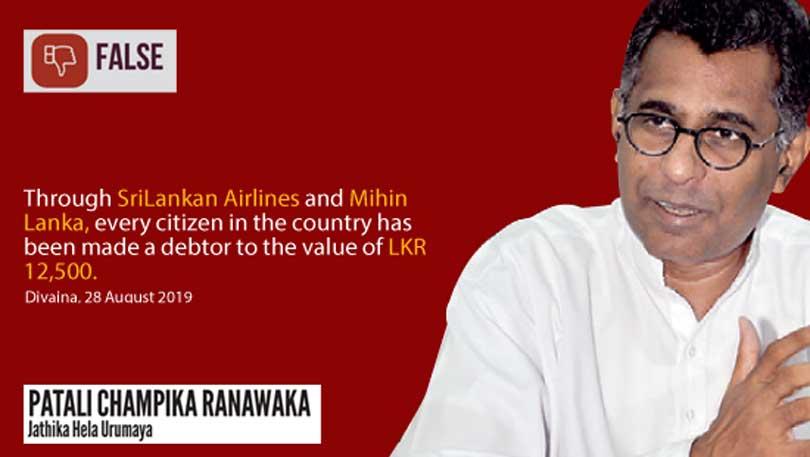 The MP in his statement is attempting to quantify the net loss, through the state-owned airlines, which then translates into additional national debt.
FactCheck evaluated the MP's claim using data on losses from the Annual Report 2018/19 published by SriLankan Airlines (SLA) and population data published by the Department of Census and Statistics (DCS). Specific Mihin Lanka related data was not available as that entity was liquidated in 2016. We added to our calculations accumulated losses of LKR 17.27 billion, for Mihin Lanka, as reported in the media at that time.

The ownership of SriLankan Airlines is mostly with the government (99.11%). The EPF has (0.36%). The MP's stated number can be approximated from using the population census numbers from 2012 (20.36 million) and total liabilities of SriLankan Airlines (LKR 250,359 million) in 2019. But that method and the resulting number are both significantly off the mark.

The net loss is not the same as the total liabilities. It is increased by the capital invested and offset by the value of the assets (See Exhibit 1). The population estimates for 2019 by the DCS is 21.8 million. Putting these together, the calculation results in a per capita loss of LKR 10,871, instead of the 12,500 stated by the MP.

There is indeed a large net loss, most of which translates to an increased per capita debt. But in making that point, the number stated by the MP is at least 15% higher than what can be reasonably ascertained from the data.

Therefore, we classify his statement as FALSE.

*FactCheck's verdict is based on the most recent information that is publicly accessible. As with every fact check, if new information becomes available, FactCheck will revisit the assessment.
Exhibit 1: Counting losses from SriLankan Airlines and Mihin Lanka
FactCheck is a platform run by Verité Research.
For comments, suggestions and feedback, please visit www.factcheck.lk.