---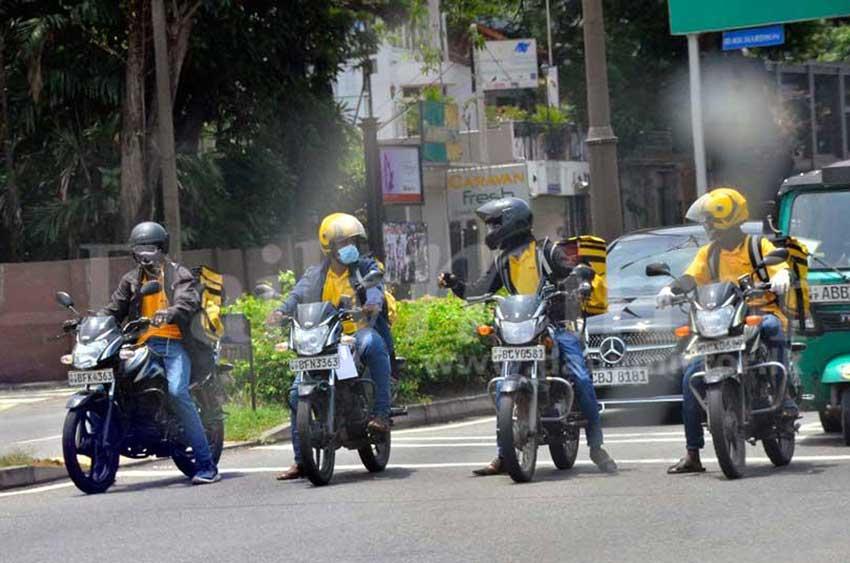 Online orders can be taken and delivered at a designated time and area based on the geo data of the customer base
Lockdowns, curfews and the call for self-isolation have all challenged those traders in essential goods, who have to get their product to the consumer through this maze of new regulations and restrictions.

Even though it took some time and effort to organise, the entrepreneurs among them were quick to offer online ordering and delivery.

Then, a smart retailer offered a regular grocery pack for Rs.1,000, which could be picked up from the store. Hopefully, the deal was done with a three-feet distance and perhaps with the aid of a fishing rod-like device!

But pandemonium erupted with the pandemic in full flow, when the curfew was lifted and the masses spilt over to the streets, 'kades' and supermarkets.

Whilst it showed that our society was a disciplined lot at last (three feet and all), there were also those wild scenes witnessed elsewhere, which compromised all guidelines of self-distancing or even shielding oneself from a sneeze.

It was then that the think tanks went in to devise a strategy to deliver groceries and other essentials direct to the consumer. This of course was on the premise that a 'lockdown' concept will not be effective in our market.

Could pickup points and selective shopping have still been the answer?
Dare I say that the pickup option in a time like this would still have been a good option.

Whilst the concept of pickup at store from an online order is pretty straightforward, serving a random pickup from store to avoid human contact needs some planning.

First of all, the trader has to offer a range of packs catering from the single young adult to the five-member middle-income family. The product mix, pricing and purchase volumes, could all have been planned better, simply by looking at the past consumption patterns within the store. (Will get to that later.)

Rather than sharing a blanket invitation to collect the pack, the pickup could have been segmented based on the street address or any such geo area.

A time band could then have been allocated for the pickup based on the same criteria.

Again, the customer data that's available within most stores would have helped to segment as well as communicate the message direct. This approach certainly would have avoided an unruly consumer mob as witnessed, who in turn would have compromised the safety guidelines spelt out by the government.
Whilst it showed that our society was a disciplined lot at last (three feet and all), there were also those wild scenes witnessed elsewhere, which compromised all guidelines of self-distancing or even shielding oneself from a sneeze

Back to delivery option
The same mechanism should be followed for the delivery model as well. Online orders can be taken and delivered at a designated time and area based on the geo data of the customer base. Perhaps a premium price for urgent deliveries by a fleet of registered tuk-tuks from the area could also be considered. (Income earned for the tuk-tuk driver).

Announcing the delivery time within the area could be via SMS to the customer base of the store. The old-fashioned loudspeaker system on a tuk could also be a means to reach those without mobiles.

OK. So, how and from where do retailers get the data?
It's time that these store chains reminded themselves of their so-called customer loyalty programmes they promoted not too long ago.

Most of these supermarkets or pharmaceutical chains have hundreds and thousands of members in their database. They know what these customers buy, how often they buy. What their average basket value is – as well as where they live. Most importantly, they have the mobile and perhaps the email addresses of each of them.

If the objective of these loyalty programmes was to treat their regular customer in a special manner, wouldn't this be that moment?
But loyalty programmes aren't the only source of data.

Sales invoices, guarantee cards, insurance policies, banks and others all have data attached to their products or services and yet many are failing to use it. In these difficult times, we want communication from those companies we've dealt with – even if it's only to say, "Hope you're staying well." The silence from many companies is deafening.
And the result could well be, "If you don't care about me, why should I care about you", when this crisis is over, leaving them to depart to your competitors.

The opportunity is to manage the moment as well as the relationship. And, if you haven't built your database, now would be a good time.

Bigger picture
Whilst businesses do have a short-term challenge to resume trading with their customer base through pickup or delivery options, it could well be the future option as well.

This means that no matter if you are a small-time retailer or a multiple store chain, investing on your customer database will be the key to success. Online trading will become a preferred channel. If not, the call for delivery or pickup option could still work.

To emphasise that point, a retailer we know had over 1,000 online orders in just one night.

As you plan ahead for such changes in your business model, remember that the type and quality of the customer data you generate will give you that competitive edge.

Keeping it up to date is critical because without accurate data, the analytics to target and communicate in a customised manner
will be lost.

So, whether you are an SME or a large retailer, it's not too late to value and 'use' the customer data you are all sitting on.

There is no coronavirus in that data yet!

(Priyanga Hapugalle, an advocate in database marketing and customer loyalty, can be reached at
[email protected])