---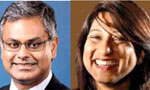 John Keells Holdings' commercial banking unit, Nations Trust Bank PLC (NTB) recorded a net profit of Rs.830.1 million for the quarter ended September 30, 2014, recording an increase of 35 percent over the corresponding period last year, the interim results released to the Colombo Stock Exchanged showed.
The earnings per share rose to 360 cents from 267 cents during the period.

The performance was mainly driven by the pickup in the credit extended during the quarter as well as the prudence management of the funding mix, which led torelatively better net interest margins (NIM). The bank on a standalone basis saw its loan book growing by as much as 10 percent during the nine months ended September 30, 2014 to Rs.92.20 billion mainly driven by the leasing and credit card portfolio.Term loans too have risen by 19.42 percent to Rs.24.59 billion.Putting this into perspective, the credit growth during the 1H14 was just 5.0 percent but the first quarter in the 2H14 saw a substantial expansion in the bank's loan portfolio.

The net interest income (NII) rose by 20 percent year-on-year (YoY) to Rs.2.37 billion as "the bank relentlessly pursued strategies to improve the mix in higher yielding assets whist pushing for growth in low-cost deposits," the bank said in a statement.Despite the banking sector NIMs coming under pressure on the back of the low interest rates, NTB managed to inch up its NIM to 5.86 percent (from 5.69 percent) as "the drop in cost of deposits outweighed the drop in loan yields."

It was only recently NTB CEO Renuka Fernando said approximately 36 percent of their lending portfolio is composed of high yielding products such as leasing (26 percent) and credit cards (10 percent) enabling them to record higher margins."You see a better margin for us because of leasing and the credit cards. You can see that model works for us and that's good," Fernando said. Low-cost funds recorded a growth of 22 percent for the nine months with current account savings account (CASA) ratio improving to 30 percent of deposits, NTB stated.

Meanwhile, the net fees and income grew by 3 percent YoY to Rs.718.69 million predominantly due to the bank's credit cards business but encountered challenges i n i ncreasing t he trade financing incomes "owing to slow growth i n corporate assets and import volumes in the economy," NTB stated. Further, the loan impairments during the quarter rose by 68 percent YoY to Rs.351.54 million arising mainly from the credit card and leasing portfolios but stressed, "the bank has undertaken appropriate measures to strengthen its leasing and credit card recovery processes to stabilize these portfolios and the resulting impairment charge."

The non-performing l oans increased to 4.61 percent from 3.52 percent a year earlier.Furthermore, NTB increased its efficiency levels as its cost to income ratio fell to 52 percent from 56 percent. Return on equity edged up to 21.91 percent.Meanwhile, for the nine months ended September 30, 2014 the bank posted a net profit of Rs.1.99 billion, up 24 percent YoY on a NII of Rs.6.58 billion, which is also up 19 percent YoY.

The bank was well capitalized with both its Tier I and Tier II capital adequacy ratios remained substantially elevated to the regulatory minimums at 11.24 percent and 14.85 percent but weakened from December 31, 2013.The parent John Keells Holdings PLC had a 20 percent stake while its t hen second shareholder DFCC Bank PLC divested its 9.92 percent stake to Fairfax Asia Limited upping its direct and indirect stake in NTB to 16 percent as of October 31, 2014.