---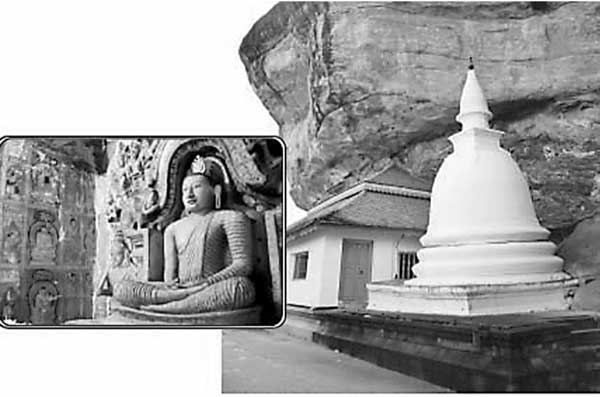 Swadeshi Industrial Works PLC once again illuminated the Rideegama Ridee Viharaya temple situated in the Kurunegala district.
The 'Aloka Pooja' was carried out under the theme 'Swadeshi Khomba Aloka Puja Sathkaraya' during the annual Esala festival.

Swadeshi Chairperson Amari Wijewardene said, "As a Sri Lankan company, we consider it a duty to safeguard the culture and traditional heritage of Sri Lanka by supporting activities such as this annual Aloka Poojawa."
She explained that Swadeshi illuminates places of worship in the country for the benefit of all worshippers and also to educate the younger generation on the importance of safeguarding the country's heritage. The illumination is followed by a colourful cultural pageant which highlights Sri Lankan traditions and history.

According to the Mahavamsa, the history of Ridee Viharaya, which was illuminated by Swadeshi, stretches up to the Anuradhapuara era. The legend says Ridee Viharaya had been commissioned in remembrance of the place from where Silver was extracted to build Ruwanmeli Maha Saaya in King Dutugemunu's epoch.

The Ridee Viharaya, which had sheltered 500 bhikkus (monks) who had attained the Arhat status, had been later developed as a temple and a place of worship by King Keerthi Sri Rajasinghe.
Three incumbents of this ancient Ridee Viharaya have in the recent past become chief incumbents of Malwathu Maha Viharaya. Malwathu Maha Vihara Parshwa Maha Nayaka, Most Venerable Thibbotuwawe Sri Siddhartha Sumangala Mahanayaka Thera of Shyamopaali Maha Nikaya, had become the third successive thra to be appointed from the Ridee Viharaya as the Chief Incumbent of the Malwathu Maha Viharaya.

Swadeshi also supports the Aloka Poojas of Kataragama Kiri Wehera, Ruhunu Kataragama Maha Devalaya, Devundara Uthpalawarna Vishnu Dewalaya, Rathnapura Maha Saman Devalaya, Dambadeniya Raja Maha Viharaya and Keragala Raja Maha Viharaya annually.