---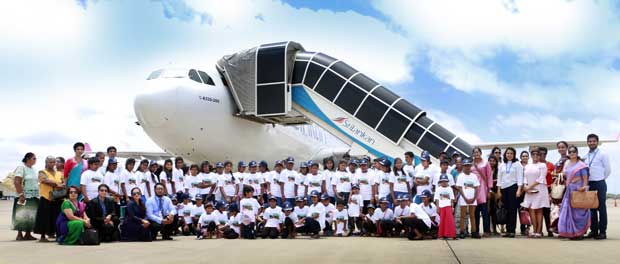 SriLankan Cares, the charity arm of the National Carrier, in collaboration with Galle Face Hotel and Ebert Silva Holidays, celebrated World Children's Day 2017 on 1st October by hosting a special programme for children from three development homes - Kirillawela Senehasa Deri Sevana Children's Development Centre, Senarath Gunawardena Children's Development Centre and Gangodawila Children's Development Centre.

These three much-reputed members of Sri Lanka's corporate sector have over the last several years built a laudable tradition of jointly organising special eventsfor children and other special segments of the community such as families of war veterans.

Pradeepa Kekulawala, Head of Human Resources at SriLankan Airlines, said: "Children are the future pillars of our nation and we are steadfast in our conviction that a child has to be provided and facilitated with a proper education, the due care and positive upbringing to develop into a human being with sound mind and body. We will continue to take all steps to ensure a better future for the children of our country to the best of our ability."

Deni Ohlsen-Dukic, General Manager of Galle Face Hotel, said: "We are truly privileged to be a part of events such as this and we look forward to Children's Day every year. This is the third year we are partnering with Ebert Silva Holidays and SriLankan Cares; it gives us the opportunity to inspire these children to do better and grow in life. It is also the unforgettable moments we make with them that makes occasions like these extra special."

Rajini De Silva Mendis, Chairperson, Ebert Silva Holidays, said: "Joining hands with SriLankan Cares and the Galle Face Hotel, we were able to synergize once again to offer a unique experience to deserving children which was given to them by all, with much love and respect. We believe that this gesture will encourage these children who cherished this day, to give that love and respect back into society when they walk into the world as responsible citizens."

On the morning of Children's Day, 62 very excited little guests were escorted from their homes to the Galle Face Hotel, where they were treated to a delicious breakfast. Theyoung boys and girls were briefed about the day's activities, and presented with a T-shirt and cap before riding an Ebert Silva Holidays' double decker 'Party Bus' on a Colombo City Tour.

They were then taken to Bandaranaike International Airport in air-conditioned buses. The children were in fits of excitement after being told that they would travel on the Colombo Katunayake Expressway, which most of them had never experienced before. The organizers and volunteers witnessed signs of pure hidden talent as the kids engaged in a song battle during the trip. At the airport, the children were given a familiarization tour.

The highlight of their outing was the chance to experience on-board hospitality on a SriLankan AirlinesAirbus A330 aircraft. They had never before sat and experienced inflight entertainment or hospitality, let alone entered a real aircraft cabin. A scrumptious meal was served to the children while they explored all of the numerous aspects of the inflight entertainment system. They also learned the fundamentals of what it takes to keep a plane flying in the sky as well as the qualifications needed for a career in the airline industry.

After lunch, the children were escorted back to Galle Face Hotel where they broke into surprisingly skilful dance numbers while a live band played and sang their favourite songs.

The organizers had also arranged a surprise magic show, which enthralled them. Before departing, each child was presented with a gift bag. One of the children gave a vote of thanks in appreciation of the dedication of the staff of SriLankan Cares, Galle Face Hotel, Ebert Silva Holidays and their respective homes for making this eventful day possible.