---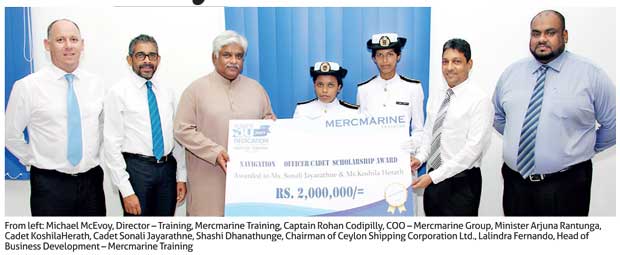 Mercmarine Training, Sri Lanka's foremost merchant seamen training institute, presented scholarships worth Rs. 2 million to two female cadet applicants, Koshila Herath and Sonali Jayarathne, at an event held in Colombo recently.
The scholarship winners were selected from over 50 applicants, based on their scores and performanceduring the entry selection process for the intake concluded in March 2017 and were officially awarded by Arjuna Ranatunga, Minister of Ports and Shipping in the presence of officials from Mercmarine Training and Shashi Dhanathunge, Chairman of Ceylon Shipping Corporation Ltd.
Mercmarine Training's special scholarship programme was launched in line with their 30th anniversary in November last year in a bid to encourage more females to take up careers in the merchant navy. The awarded scholarships were worth Rs. 1 million each and covered 90 percent of the course fee for the first phase of the Cadet Officer programme in the Navigation or Engineering department at
Mercmarine Training.
Commending Mercmarine Training's efforts to promote rewarding careers at sea among Sri Lankan women, Arjuna Ranatunga, Minister of Ports and Shipping said, ''Merchant seafaring is one of the most rewarding career paths available to the Sri Lankan youth today. Unfortunately, due to lack of awareness most youth tend to overlook this great career path in favor of more common and most sought after professions. There's a great potential for Sri Lankan merchant navy personnel to grow professionally at a global level and immensely contribute to the economic growth of the country.
"I congratulate the two young women on winning these scholarships and wish them good luck in their exciting careers. At the same time, I would like to thank Mercmarine Training for their unwavering commitment to promote this profession among Sri Lankan youth, specially the females.''
''As the foremost seamen training institute in the country, we have always kept pace with the changing industry trends at a global level. Hence, we have been aware of the increasing demand for female seafaring professionals globally. Many international organizations including the International Maritime Organization (IMO) have extensively discussed the advancement of women through maritime professions in both shore-based and sea-going posts. This scholarship programme is an unprecedented initiative and we are happy to see it yielding desired results. We earnestly hope more Sri Lankan female youth would follow the footsteps of Koshila Herath and Sonali Jayarathne and make most of the great career opportunities available to them in the merchant navy'' said Captain Rohan Codippily, COO, Mercmarine Group.
Founded in 1986, Mercmarine Training has continually produced top notch Sri Lankan seafaring professionals and has been a key force in attracting young blood to the industry.
Backed by the Mercmarine Group, one of the largest shipping groups of companies, Mercmarine Training intends to continually raise awareness about the merchant seafaring profession among the Sri Lankan youth and provide them with unprecedented opportunities to embark on successful careers.