---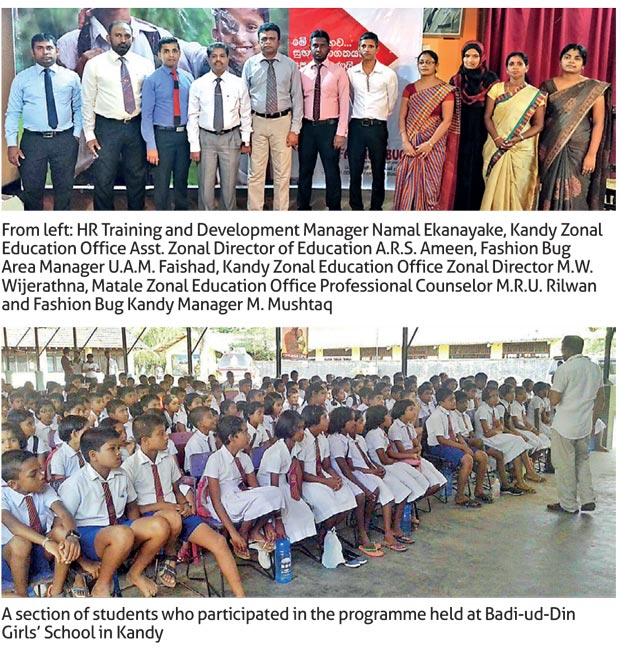 Fashion Bug, one of the country's leading clothing retailers conducted its latest 'Sisu Dirimaga' CSR programme in Kandy recently, offering mentorship and career path guidance sessions to help the school children make positive life choices.

One of the programmes was the latest initiative under Fashion Bug's award-winning 'Sisu Dirimaga' project and it has already benefitted over 12,000 students from around the country, to date. This time, the 'Sisu Dirimaga' programme was conducted at the Badi-ud-Din Girls' School in Kandy with over 400 Tamil Medium students participating.
Conducting this career guidance programme was Matale Zonal Education Office Professional Counselor M.R.U. Rilwan with several representatives of Fashion Bug including Human Resources Development Manager Namal Ekanayaka and Fashion Bug Area Manager U.A.M Faishad, who also took part in the programme. The programme highlighted the importance of planning for the future and setting attainable goals.

"Fashion Bug aims at giving the next generation an opportunity to be what they really aspire to become in life by providing them with best guidance and motivation that they need. This is a great opportunity for us to express a high sense of humanity as the growth of the company progresses, which demonstrates our outmost commitment to continuously recognize the need to promote and deliberately support our future through our 'Sisu Dirimaga' programme which demonstrates to us on being a responsible corporate citizen," said Fashion Bug Director Shabier Subian.

Projects such as these are a key focus of Fashion Bug, who spends millions annually on various CSR projects carried out around the island in various sectors – from sports to education, through to health, public services and beyond.