---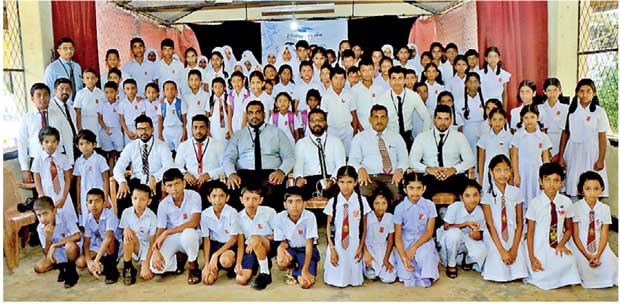 Drizzling Foundation hosted an event under the theme 'Adhyapanayata Athwalak' recently in Thalduwa, Avissawella.

One hundred under privileged students from Thalduwa Muslim Maha Vidyalaya and Thalduwa Buddhist Maha Vidyalaya were provided with school bags and stationary.

Drizzling Foundation members pledged donations worth of Rs.280,000 for the complete project. The funds were raised through digital media and other known sources. The event commenced at 9:00a.m. with the national anthem which was then followed by religious activities.

School heads and the Executive board members of the Drizzling Foundation distributed bags filled with stationary to the students. Drizzling Foundation President Arafath Hassen addressed the students and guests and shared with them the importance of education and about support that was needed to be extended to students through external sources such as teachers, parents and the general public and to assist them with succeeding.

The Principals of both the schools addressed the students and the event concluded with a thank you note from students of both the schools. The Drizzling Foundation team also officially handed over a constructed 2000 litre water tank to the Thalduwa Muslim Maha Vidyalaya.

Drizzling Foundation was formed in 2014 with a team of 10 members. Since its inception the foundation has taken its obligation to help the needy. Currently the team has grown to over 100 plus members led by the foundation president himself along with assistance from Vice President Nashad Munas, Secretary Mohammed Ameen and the Treasurer Mashood Latheef within a period of three years.

As a foundation, they have been involved in major projects such as 'Adhyapanata Athwalak' (Providing school stationary for underprivileged students) which has been conducted for the past three consecutive years, 'Feed the Hungry' (providing dry rations for underprivileged families), 'Disaster Aids' (such as Koslanda landslides, flooding) and 'blood donations'.

Founderand President Arafath Hassen stated that the vision of this foundation is to help the needy in whichever the way possible. The motive of the team is to play a very important role among the Sri Lankan community in helping one another and in spreading this message across.