---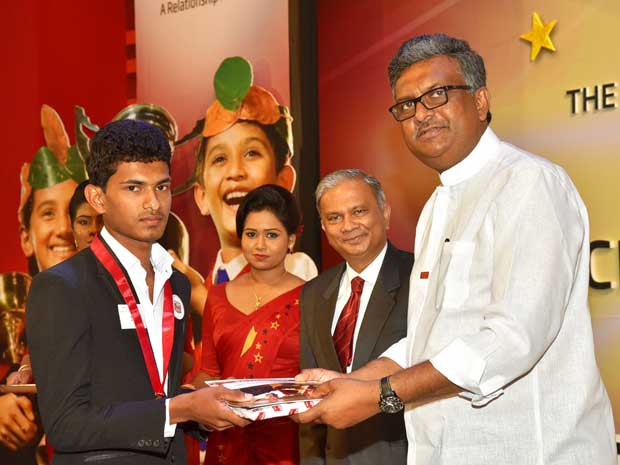 Ceylinco Life's investment in the future leaders of Sri Lanka surpassed Rs.120 million when the life insurance leader disbursed another 160 scholarships to high-achieving students and young people at the company's 16th Pranama scholarships presentation.
Hundreds of school children from every district of Sri Lanka, their parents, teachers and senior academics filled the main hall of the BMICH to witness this annual event which celebrates academic and extra-curricular excellence in an effort to reward, encourage and stimulate the country's brightest students.
Among the recipients of the latest round of scholarships presented by Ceylinco Life were 28 children who excelled at the Year Five scholarship examination of 2016, 24 high scorers at the GCE Ordinary Level examination of 2015, 98 high achievers at the GCE Advanced Level examination of 2015 and 10 young people that excelled at the national or international level in sports, culture, arts, drama or invention.
Addressing the event as the chief guest, University of Sri Jayewardenepura Vice Chancellor Professor Sampath Amaratunge stressed "a scholarship is a life" because it has the potential to be life changing.
He also emphasised that besides good health and plentiful rain for cultivation, education is all that a country needs to progress.
"Sri Lanka would only need five years to develop if our people are well educated, know right from wrong and abide by this knowledge," Prof. Amaratunge said.
Ceylinco Life Director and Deputy CEO Thushara Ranasinghe focussed on the importance of emotional intelligence and its interaction with a high intelligence quotient for performance and success. He disclosed that according to the book 'Emotional Intelligence 2.0' by Travis Bradberry and Jean Greaves, it has been estimated that emotional intelligence is responsible for 58 percent of job performance and that people with higher emotional intelligence earn an average of US $ 29,000 more a year than others.
He said the objective of the Pranama scholarships programme is to acknowledge and honour academic excellence while helping parents with the burden of the high cost of educating their children.
"We do not consider the cost of the 2,200 plus scholarships presented to date as an expense but as an investment in the future of our country," Ranasinghe said.
One of the highlights of the event was a speech made by Dr. Dulan Samaraweera, a surgeon at the National Hospital, who was a Pranama scholarship recipient in 2005.
Ceylinco Life's Pranama scholarships programme presents cash rewards to children of policyholders who achieve the best results in their respective districts at the Year Five scholarship examinations and at the GCE Ordinary Level, as well as to those who come first, second, third and fourth in their districts at the GCE Advanced Level. The national merit awards are presented to 10 young people for non-academic achievements.