---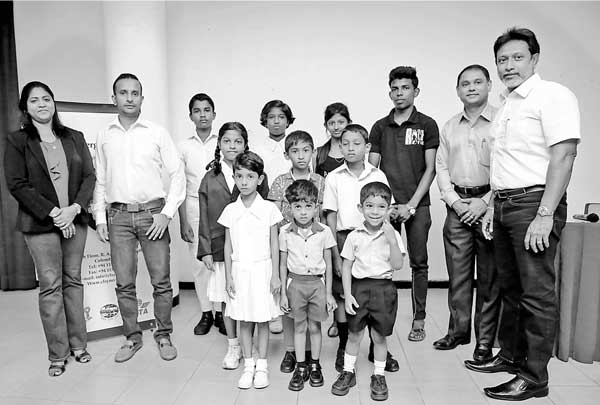 CL Synergy director board with the children who received the scholarships
CL Synergy, a pioneer in providing integrated logistics and freight forwarding solutions, recently launched yet another innovative corporate social responsibility (CSR) project 'CL Synergy Smiles', which aimed at providing quality education to underprivileged children in the country.

"Over the past 12 years, CL Synergy as a corporate entity has fulfilled its social responsibility mainly focused on children through many CSR projects," said Managing Director Roshan Silva.
"At the heart of everything we do, we've tried to keep the aspirations and ambitious of young underprivileged children in mind. CL Synergy Smiles is a unique project where we reach out to them directly and stay with them on their path to progress and success."

Silva believes that a child's education is the only sustainable reward that can be passed on to future generations. As a truly Sri Lankan company, he is eager to see this company give back to society.
Based on a UNICEF survey, 'Out of School Study', poverty is the number one risk factor for Sri Lankan children to not to attend schools and these children drop out of school. The CL Synergy Smiles Fund is a unique initiate, one-of-its-kind, where everyone from its employees to suppliers and even customers contribute, unknowingly. Proceeds from its revenue are be channelled to this fund. How CL Synergy Smiles work is that it would initially receive nominations from the company, from its stakeholders and even customers. Students who are eligible will be shortlisted and scholarships would be awarded. Thereafter, CL Synergy would keep tabs on those students to ensure that their needs are met and that they stay in school. Smiles will even go the extra mile to ensure that they enter universities or complete their higher studies.

The progress of the students will be evaluated to ensure that they receive the maximum benefit. The scholarship will cover special talents and record the achievements of students. A dedicated website will be maintained so donors could celebrate when the students excel and do well. All beneficiaries of the fund will have accounts opened for them at DFCC Bank.

As part of the initiate, Smiles will also host education seminars and workshops, where students from regional schools will be invited to. Over the years, the amount of money dispensed and the number of scholarships will be increased yearly. Students who are supported by CL Synergy Smiles are welcome to contribute to the fund when they are financially able and secure
to do so.