---
Academic stresses need to focus on improving productivity, health and saving capacity of current workforce
Eyes second demographic dividend to stimulate economic growth from the country's ageing population
Population above 60 years projected to reach 22% of the population by 2037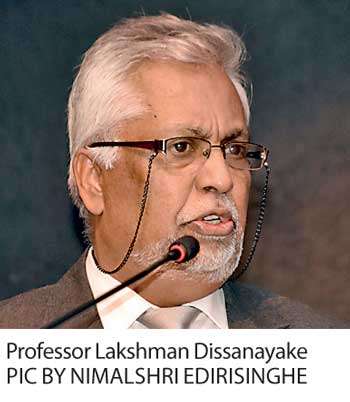 By Nishel Fernando
Sri Lanka needs to focus on improving productivity, health and saving capacity of its current workforce in order to earn a second demographic dividend driven by its 'Silver Economy', a top academic asserted.

According to University of Colombo Vice Chancellor and Senior Professor Lakshman Dissanayake, Sri Lanka's population above 60 years is projected to reach 22 percent of the population by 2037 from 12.4 percent in 2012.

During the same year, he projected that Sri Lanka's first demographic dividend, where the working-age population is larger than the non-working-age share of the population, will come to an end.

However, he pointed out that there will be an opportunity for Sri Lanka to earn a second demographic dividend to stimulate economic growth from the country's ageing population, if policymakers set right policies in motion now, concerning the current workforce.

Prof. Dissanayake made these remarks this week, addressing the inaugural event of South Asian Economics Students' Meet (SAESM) held at the University of Colombo.

"We can turn around this aging population to an opportunity by focusing on the current labour force. If you improve the quality of the labour force by improving the productivity, health and if you improve their saving capacity, by the time they reach their retirement, they will actually accumulate some wealth in order to take care of themselves during their old age. If you do that, then aging will become the second demographic dividend," he elaborated.

Prof. Dissanayake highlighted that the 'Silver Economy'—the economy of population above 60 years— will provide opportunities for businesses to supply specific goods and services for their usage.

European countries in particular are focusing on Silver Economy to stimulate growth due to their high spending power.

In Germany, a third of the total spending is attributed to people who are over the age of 60 and the German Institute for Economic Research (DIW) forecast that this figure would increase up to 41 percent by 2050.
Prof. Dissanayake is also of the view that Sri Lanka has reached the position where it needs to redefine and re-measure the age, as survival chances of the population have significantly improved on par with the improvements in capabilities.

"The survival chances of a person aged 30 years in 1950's were relatively low compared with a similar aged person now. The life expectancy of a person of 30 years is equivalent to about 42 years now.

The mental activity, physical activity and also the work involvement are different to what you have seen somebody at your age in the middle of the last century," he pointed out.

However, Dissanayake questioned whether the country was even able to benefit from its first demography dividend—which is to expire in 2037—by formulating policies to enhance productivity and to create good employment opportunities for the youth.