---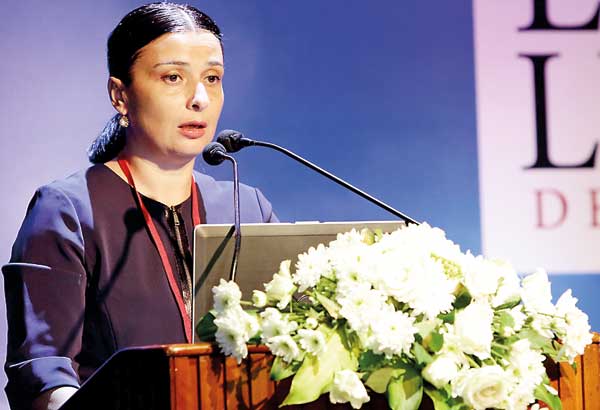 By Shabiya Ali Ahlam
Sri Lanka's gross domestic product (GDP) could further improve with greater contribution by the female workforce towards economic development, according to the International Monetary Fund (IMF).
"Calculations of the IMF show that Sri Lanka's GDP could be 20 percent higher if female labour had the opportunity to participate and contribute to the country's productivity," IMF Resident Representative in Colombo Eteri Kvintradze told a recent forum held in Colombo.
Noting there could be a significant increase in progress if more opportunities are presented to this segment, Kvintradze stressed the need to bring in labour market reforms that would boost female participation.
She also urged the nation to explore as to why to the current labour force is unable to utilise its productivity despite having the potential.
According to the IMF Chief, Sri Lanka has the advantage over its regional peers to boost labour market participation largely due its high education attainment levels.
"Sri Lanka stands out because it has very high education attainment levels but female participation in the labour force is as low as India. And surely compared to the education attainment levels in India, it is obviously well behind Sri Lanka. There is a huge opportunity and potential to improve in this regard," asserted Kvintradze.
Analytical work from the IMF has found that the labour market outcomes for women can be improved through three key policies:

To have a more flexible labour market that will help job creation for men and women, increase spending in the higher social sector and invest further in infrastructure such as public transport, which can foster female economic participation.
Although the payoff to overall growth from policies that reduce economic gender gaps can be high, Kvintradze emphasised that the opportunity for women to earn and control income has been associated with broader economic development and total factor productivity gains.
According to the Sri Lanka labour force survey for 1Q15 released by the Census and Statistics Department, it is estimated that while the economically active population stands at 8.9 million, 63.3 percent are males whereas only 36.7 percent are females.
The labour force participation rate in Sri Lanka increased to 54.30 percent in the second quarter of 2015 from 53.60 percent in the first quarter of 2015, according to the Central Bank statistics. The participation rate averaged 49.97 percent from 1990 until 2015, reaching an all-time high of 54.30 percent in the second quarter of 2015 and a record low of 46.90 percent in the third quarter of 1992.
---
Add comment

Comments will be edited (grammar, spelling and slang) and authorized at the discretion of Daily Mirror online. The website also has the right not to publish selected comments.

---