---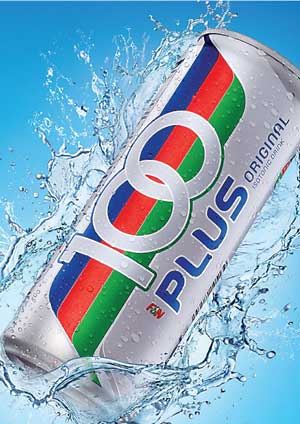 Zahra International recently introduced 100PLUS, Malaysia's No. 1 isotonic sports drink brand to the local market, as part of the company's long-term strategy to diversify and strengthen its product portfolio in Sri Lanka.

The beverage comes in two flavours, lemon lime and orange, and is available exclusively at Keells Super outlets across the island. Whilst the current two flavours of 100Plus are carbonated, Zahra International is planning on introducing non-carbonated variants and a broader range of flavours to the market shortly.

100PLUS is produced and distributed by F&N Beverages &Marketing Sdn Bhd, the largest soft drinks distributor and manufacturer in Malaysia and it will now be marketed and distributed exclusively by Zahra International in Sri Lanka.

100PLUS features a special formula that refreshes, rehydrates and re-energizes the body by replenishing body fluids, energy and electrolytes that are lost during exercise or intense physical activity or exertion.

100PLUS is ideal for both sports enthusiasts and active working professionals who are juggling the demands of a busy lifestyle and career. The beverage is caffeine-free and is certified as a Halal product, that is now available in 500 ml bottles in leading supermarkets across Colombo.

Commenting on the launch of 100PLUS in Sri Lanka, Muffadal Patel – Proprietor, Zahra International said: "We are extremely proud to introduce 100PLUS, the latest product in our portfolio, to Sri Lankan consumers. Zahra International currently markets and distributes a range of global consumer beverages and we are delighted to diversify our portfolio further with the introduction of 100PLUS."
100PLUS has been developed from a proven state-of-the-art isotonic formula that delivers the optimal combination of thirst quenching and energy replacing ingredients. The beverage helps to restore the energy and fluids that the body loses during physical exertion and rehydrates the body so it can perform at a well-balanced optimum.

The formula which comprises special fluids, carbohydrates and electrolytes is quickly and efficiently absorbed by the body, enabling consumers to enjoy a quick "pick-me-up" that sufficiently re-energizes them after a period of exercise or a busy day at the office.
Zahra International comprises a dynamic team of young and ambitious professionals, who are working towards making sure that Sri Lankans have enhanced access to trendy and innovative consumer products. The company's product portfolio also includes Appy Fizz, Frooti, Glinter and Bebeto.