---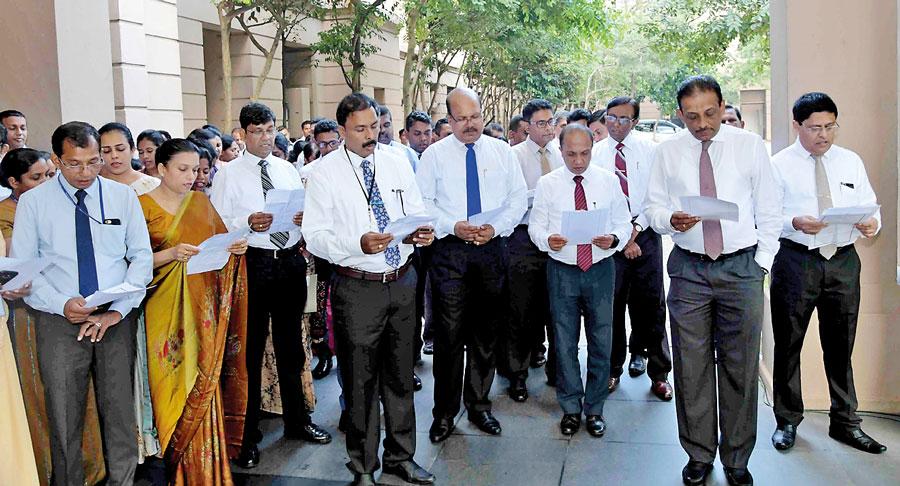 Treasury officials at the Finance Ministry oath-taking ceremony yesterday
Sri Lanka's taxpayer-funded state sector employees must go beyond traditional norms to serve the public, instead of idling and procrastinating to implement the government policies, Treasury and Finance Ministry Secretary S.R. Attygalle stressed.

"We are all working but I think we have room to improve our contribution. Don't waste time. Don't file petitions against each other. Don't waste time on Facebook. You can gain a temporary satisfaction from those activities but nothing good comes out of it. Instead, you can spend that time to reply an official mail," he advised the Treasury officials speaking at an oath-taking ceremony at the Finance Ministry yesterday.

Issuing a circular, the Public Administration, Home Affairs, Provincial Councils and Local Government Ministry had made it mandatory for all public servants to read aloud an oath affirming an efficient, productive and loyal public service at the commencement of work for the year 2020.

Attygalle noted that there were many complaints on the inefficiency of the Treasury officials with regard to their failure to reply official emails and their failure to guide state employees in other ministries and state institutions.

Moving forward, he urged the officials to pave the way for the youth leaders to emerge in the state sector while making a bold decision to implement the government's policy agenda, which is aimed at reviving the sluggish economy.
"President Gotabaya Rajapaksa presented his policy statement 'Vistas of Prosperity and Splendour' and it has become the national policy now. The people have become hopeful again. We need to go beyond traditional norms to implement this programme. We need to provide opportunities for youth leadership. We need to make bold decisions. Mistakes may occur but we must march forward while correcting our mistakes," he went on to say.

He urged the public sector employees to be open to new ideas, irrespective of the source of ideas.

"Sometimes the director general's driver or office assistant could have good ideas. Don't discard them just because you are the director general," Attygalle further advised.