---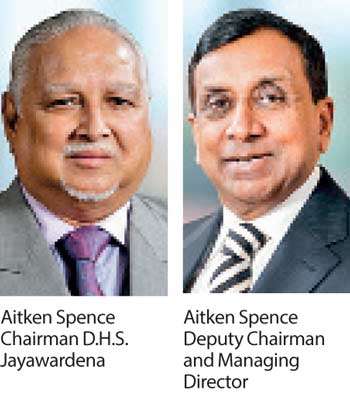 Tourism and power generation segments boosted Aitken Spence PLC's profits while the group's key maritime and logistics sector remained steady as the diversified conglomerate reported a significantly better financial performance for the period ended March, 2018.

Aitken Spence reported Rs.16.6 billion in revenues for the January – March quarter (4Q18), up from Rs.15.4 billion in the corresponding period, last year, while the net profits jumped 47 percent year-on-year (YoY) to Rs.1.8 billion from Rs.1.2 billion a year earlier.

The group reported earnings per share of Rs.4.46 compared to Rs.3.03 a year earlier.

Aitken Spence share ended at Rs.50.50, 10 cents or 0.20 percent up during yesterday's trading. Meanwhile, for the year ended March 31, 2018, the group reported earnings of Rs.8.77 on a total profit of Rs.3.6 billion compared to Rs.7.12 a share or Rs.2.9 billion in total earnings in the previous year.
Full year revenues grew little under 15 percent YoY to Rs.52.7 billion.

Other operating income rose substantially to Rs. 543.5 million from Rs.145. 2 million. The jump in other operating income reflects the gain on disposal of the group's fully owned subsidiary, M.P.S. Hotels Private Limited, in September 2017.

Group's tourism sector showed upswing in terms of both top and bottom lines for the year due to "satisfactory performance" in the Sri Lankan hotels.

Aitken Spence is the second largest leisure sector operator in Sri Lanka after John Keells and has a sizable portfolio of resorts in Maldives.

"All properties under the group's flagship Heritance brand achieved revenue targets, with Kandalama, Tea Factory and Ayurveda Maha Gedara reporting good results despite being affected by a slow start to the year.

Despite severe competition facing beach properties, Heritance Ahungalla recorded a satisfactory performance, while the newest addition to the portfolio –Heritance Negombo, shows great promise for the future.

Meanwhile Turyaa Kalutara made steady progress towards a turnaround, as did Hotel RIU, where the Group has a 60 percent shareholding", Aitken Spence said in a press release.

The group's tourism sector recorded Rs.25.7 billion in revenues compared to Rs.20.5 billion in the previous year while the profit after tax surged to Rs.2.4 billion from Rs.1.5 billion reported for the previous year.

Meanwhile, the group's strategic investments segment, which includes the power generation business, recorded Rs.16.8 billion in revenue against Rs.16 billion in the previous year.

This segment reported earnings of Rs.1.25 billion from Rs.1.04 billion in the previous year.

The ailing segment was weighing heavily on the group profits until the company renewed its power purchase agreement for Ace Power Embilipitiya (Pvt) Limited—a thermal power plant with 100 MW capacity— in April, 2016, with the Ceylon Electricity Board (CEB), after the country faced back to back electricity black-outs.
Since then the CEB has been renewing the agreement every year to avert a potential power crisis.

Meanwhile, the group's maritime and logistics segment recorded Rs.8.6 billion in revenue against Rs.8 billion in the previous year. This segment reported earnings of Rs.1.4 billion, slightly down from the previous year's earnings.

The billionaire businessman, Harry Jayawardena-controlled Melstacorp Limited, Rubicond Enterprises Limited and other related parties collectively held over 67 percent of Aitken Spence as at March 31, 2018, while the Employees' Provident Fund held 5.07 percent stake being the third largest shareholder.