---
By Shabiya Ali Ahlam
Come August, Sri Lanka will finally see the establishment of an automobile manufacturing plant as Indian multinational car manufacturing corporation Mahindra & Mahindra Ltd is set to inaugurate the complex, which will up the island nation's scope for value addition.

The manufacturing plant will be operated together with Sri Lanka's Ideal Group of Companies and is set up with an investment of Rs.3 billion.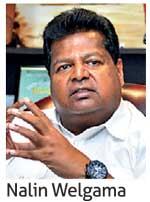 The manufacturing facility that is located in Mathugama would be operated under a company jointly formed by Mahindra & Mahindra and Ideal Group, named Mahindra Ideal Lanka (Pvt.) Ltd.
The operations would officially be launched on August 17, under the patronage of Prime Minister Ranil Wickremesinghe.

Calling the establishment of the automobile plant a "project of national importance", Ideal Group of Companies Founder Chairman Nalin Welgama said the venture would encourage local establishments to follow suit, which in turn would help the country's economic development.

"This is the first time an auto major, who is globally acclaimed, has invested directly in Sri Lanka, partnering a Sri Lankan automotive company. They are doing the research and development, which assures the continuity," Welgama told reporters in Colombo, yesterday.

While the project aims to move Sri Lanka away from being import-dependent for vehicles to a certain extent, the Ideal Group chief noted that Mahindra & Mahindra with keen interest has entered the island nation through the Board of Investment and is looking to uplift the automobile space.

The manufacturing will kick off with Mahindra KUV100, a mini SUV, which was launched by Mahindra & Mahindra in 2016 in India. Over 100,000 KUV100s have been sold in India to date, which according to Welgama, proves the vehicle is tried and tested, thus will be a definite success.

Ensuring there is local value addition taking place, the Indian auto-manufacturing giant has identified four key areas of focus, which are seat manufacturing, tires, exhaust and battery. The commencement of the assembling process is expected to help achieve 35 percent value addition alongside the manufacturing of parts.

The plant will have the capacity to build about 40,000 units per year and will eventually be expanded.

The KUV100 that has an engine capacity of 1200cc would be made available for approximately Rs.3.2 million. With the vehicle expected to offer greater value for money, Welgama expressed confidence in selling approximately 100 units per month in the first few months.

"We will start small initially but I am confident it will improve vastly as the months go by," he stressed.