---
By Zahara Zuhair
Asserting that China's policies towards Sri Lanka will remain unchanged, Chinese Ambassador to Sri Lanka, Yi Xianliang, said that the question now remains whether the Sri Lankan government could expedite the implementation of relevant policies with regard to the Chinese investments in
Sri Lanka.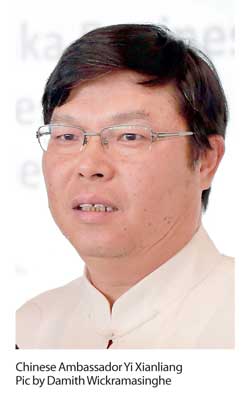 Talking about the proposed Sri Lanka-China industrial park, under the US $ 10 billion Hambantota port development project, he said that when the Sri Lankan prime minister visited China in April this year, the Chinese president suggested that Sri Lanka clearly could establish its own independent industrial system and China would provide help and assistance in this regard.
"It will be built in a special way. In the front, there is a port, in the middle, the industrial park and in the inner part, there is going to be a city," he said addressing a Sri Lanka-China business forum organised by the Ceylon Chamber of Commerce (CCC), where many Chinese entrepreneurs participated.
The envoy, who was described as 'straightforward and highly efficient', said that at present much work has been done on this project because every week they have mechanisms working to expedite the process.
As the suspension of the Colombo Financial City Project (Port City) for more than one year had caused a loss for both the countries, he said that he had made it clear to both the Sri Lankan president and prime minster that this should not happen again.
"I also believe the future changes in the Sri Lankan government will not lead to any change in the investment policies," he said.
He said that as the outbound foreign investments from China could reach US $ 150 billion this year and if Sri Lanka could attract merely one percent of that, US $ 1.5 billion would be gained to the country.
"You have this potential but at present you don't have the policy. I believe such policies will come up soon," he said.
He said in the next three to five years Chinese investments in Sri Lanka will reach US $ 5 billion.
"At present, we are asking for 50 square kilometres of land. We are now negotiating concerning the development of a power generation plant and an oil processing plant, chemical fertiliser factories and also a shipbuilding factory. These projects could be implemented," he said.
Meanwhile, he also said that they welcome any other country from the region or outside the region to participate in the business and trade corporation between Sri Lanka and China.
He said that he assumed duties as the ambassador to Sri Lanka last year at a quite difficult time where the new Sri Lankan government was put in place and many China-Sri Lanka issues had to be addressed.
"In one year and nine months I have been here, I have met face to face not less than 500 Chinese entrepreneurs," he said.
While requesting the visiting Chinese entrepreneurs to come to Sri Lanka and help to take the bilateral relationship further, he told them that Sri Lanka is not anymore a small country but a medium-sized country.
With regard to tourism industry he said that the number of outbound Chinese tourists last year reached 130 million but the number coming to Sri Lanka was a mere 220,000. He said that this year the number of Chinese tourists to Sri Lanka would reach 300,000 and it would reach one million in next five years.
"In my view, this would be the greatest business opportunity for you," he noted.
He said during the long-standing relationship between the two countries dating back to 1613 years, they did not have any major problems and it is proved that both the countries could overcome any difficulties that could come their way.
'If you compare our bilateral relationship with any other bilateral relationship, it's very hard to find such friendly relationships that have gone through so smoothly," he said.