---
Retail juggernaut Softlogic Holdings PLC recorded improved top line performance for the September quarter (2Q21) with higher operating profits compared to the previous year, stoked by pent up demand and recovery in the economy after COVID-19 related lockdowns that ended in mid-May.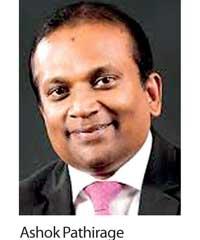 For the quarter under review, the group reported 9 percent year-on-year (YoY) increase in revenue to Rs.21. 8 billion. For the six months ended in September, the group's revenue however fell 3 percent YoY to Rs.35.9 billion.
Primary contributors to group's top line for the cumulative period were retail (52 percent contribution), financial services (22 percent), healthcare services (20 percent), IT (5 percent) followed by the non-core sectors -- automotive and leisure & property.

The group recorded operating profit of Rs.2.5 billion for the quarter under review, up 36 percent YoY, supported by higher other operating income, which comprise of recurrent and non-recurrent income such as investment income, fee and commission generated from retail and financial services, and lower
distribution expenses.

The gross profit for the period was flat at Rs.7.1 billion as cost of sales rose 14 percent YoY to Rs.14.6 billion.
The group EBITDA improved 35 percent YoY to Rs.3.5 billion during the quarter while cumulative EBITDA for the six months was Rs.3.8 billion.

Net Finance cost for the quarter under review edged up by just 1 percent YoY to Rs.1.7 billion, thanks to lower interest rates, and for the six months it rose 4 percent YoY to
Rs.3.3 billion.

The group had interest bearing liabilities to the tune of Rs.10.2 billion as at September 31. 2020, up from Rs.9.1 billion 12 months ago and other current liabilities of Rs.24 billion, down from Rs.25.4 billion 12 months ago.

Despite higher operating income, the group's profitability was impacted by change in insurance contract liabilities due to the interest rate decline for contracts with guaranteed return and the shortfall of the life fund to meet actuarial liabilities. The quarter witnessed a transfer of Rs.1.7 billion compared to Rs.362 million a year ago.
Accordingly, the group reported net loss of Rs.1.09 billion for the quarter, up from Rs.761.9 million net loss a year ago.

A segmental analysis of the performance of the group's business segments showed its retail sector's quarterly revenue increasing by 9 percent YoY to Rs.11.2 billion amid higher demand as people returned to their normal lives during the period. Sector revenue for the first half remained at Rs.18.8 billion.

The group's healthcare segment, which comprises the Asiri hospitals chain, reported quarterly topline increase of 17 percent YoY to Rs.4.5 billion while the six-month revenues reported a topline of Rs.7.1 billion.

Financial services segment of the group, which has finance company, life insurer and a stockbroker, witnessed a revenue growth of 20 percent YoY to Rs.4.7 billion during the quarter while the cumulative revenue increased 2 percent to Rs.7.8 billion

Driven by higher demand for laptops and other such devices, the group's IT business reported revenue of Rs.1.1 billion for the quarter while revenue for the first half was Rs.1.7 billion.

"Suffice to say, our investments in brick-and mortar have been for the long term, something which is essential for the country's development objectives where the retail infrastructure and the hospital chain are intrinsic value additions for tourism to bloom.

Although, there are setbacks in the short term, when these hurdles are overcome, our business model would generate strong returns as it is aligned inextricably with the growth of the economy," Softlogic Group Chairman and Managing Director Ashok Pathirage said.

Pathirage owns 41 percent of the issued shares of Softlogic Holdings PLC.