---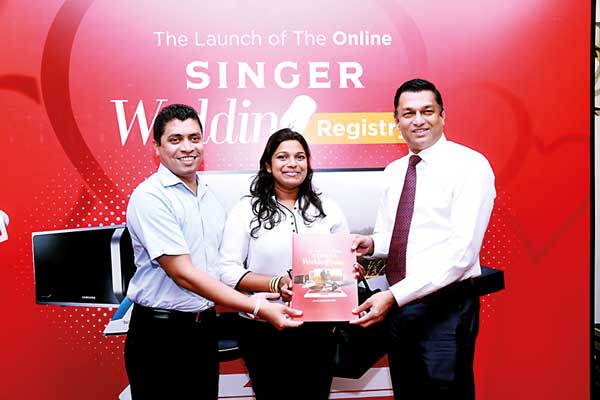 Singer Sri Lanka PLC Director Commercial and Marketing Mahesh Wijewardene handing a token of appreciation to the first couple who signed up for the Singer Online Wedding Registry
Singer Sri Lanka PLC, the country's leading consumer durable retailer, launched its first-ever Online Wedding Registry at a special ceremony held recently.

Singer Online Wedding Registry will allow couples to create and manage their own wedding registry from anywhere in the world by simply logging onto a secure web portal. It will include a comprehensive range of products and brands marketed by Singer, covering over 30 product categories ranging from consumer durables to furniture items, giving the couple the flexibility to choose any product they require. Singer intends to offer special gift hampers and gift vouchers for the first five lucky couples who would register online with Singer Wedding Registry.

Expressing his views about the company's latest offering Singer Sri Lanka PLC Director Operations Chandana Samarasinghe stated, "In today's society, couples are embracing technology like never before when it comes to planning their big day and they expect their wedding registry experience to be easy to set up, fun to interact with and accessible from anywhere. Today's fast-paced life, they simply do not have the time to run around getting all wedding matters looked into with their busy schedules. This is why we feel that this Online Wedding Registry will do them a great service by using technology to bring the convenience of picking wedding gifts to their fingertips."

Commenting on the state-of-the-art solution, Singer Sri Lanka PLC Director IT Ajith Paranavitane stated, "This novel online solution allows couples to register for the wedding registry in a few easy steps at one place and purchase almost anything from the Singer online store. With this modern take of gift giving, couples will be able to create and edit their registries while on the go, and will have the flexibility to add any products onto their registry from the Singer website."

Once the couple registers by filling in the details they will get a confirmation email to activate the gift list. Once this is activated, the couple can create their very own gift list by adding products from the website. They can also add products from 'Hot Deals' section where special discounts and offers with discounts up to 50 percent are offered only for web-based purchases. After creating the wedding registry, the couple can print the wedding registry number with the Singer web URL and send it along with their wedding invitation. They also have the option of emailing the wedding registry link to the invitees especially will be useful for relatives who live abroad.

Mostly couples are given gifts that they might never use or the same product may be gifted by several guests, which often leads to waste of money and space. Singer Online Wedding Registry gives couples the chance to indicate specific items of their choice. Invitees can also pool in with others to purchase the gifts the couple has selected even at a higher price by contributing collectively and to make their wish realized. Singer also offers an added advantage of delivering all the purchased gifts to the residence or any venue that is convenient to the recipients.