---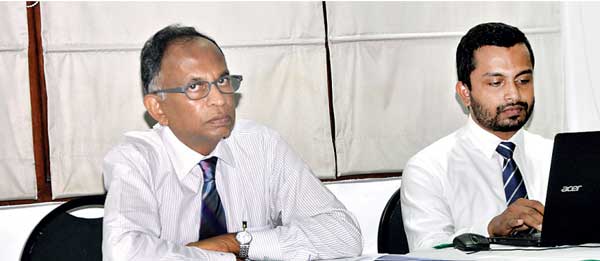 Sierra Cables Managing Director Shamendra Panditha (left) and Sierra Cables Finance & Strategic Planning Manager Pasad Boralessa Pic by Waruna Wanniarachchi
By Chandeepa Wettasinghe
The Sierra Holdings electrical cabling and water piping subsidiary Sierra Cables PLC (SIRA) is hoping to expand and strengthen its presence in Africa and the Pacific through its latest investments, as the local market has saturated.

SIRA had invested US$ 2 million on a power transmission cable manufacturing plant in Kenya with a 500 tonne monthly capacity last year, and is now planning to invest 30 percent in a US $ 4 million joint venture cable manufacturing plant in Fiji with a 300 tonne monthly capacity.
"Kenya is a gateway to other land-locked countries like Uganda, Sudan, Ethiopia and Somalia. From Fiji we will have a larger market access to New Zealand, Australia, Papua New Guinea and other pacific countries," SIRA Finance & Strategic Planning Manager Pasad Boralessa said.
SIRA Managing Director Shamendra Panditha noted that since it was the company's first overseas expansion, SIRA did not want to take a huge risk in Kenya,

and resorted to leasing both the land and the buildings, with large commitments made only for the machinery.
"But that was phase 1, where we manufacture aluminium wires. Under phase 2, we are going to manufacture insulated cables. It will be another US$ 2 million investment," he said.
The Kenyan operation received its first order for US$ 1 million just as the facility was opened for production this October.
After experiencing firsthand the ease of doing business for industrial manufacturers and the massive demand for electrification in Kenya, as well as the potential for growth in the rest of Africa, Panditha said that bigger investments will be made in the East African nation.
"We will be investing in a bigger factory in our own land in the future. It's still in the conceptual stage," he said.
Until now, local manufacturers in Kenya were able to supply only 30 percent of the demand, and the Kenyan government has given wide incentives for investors in the power sector.
Panditha noted that SIRA's parent is interested in exploring opportunities for power generation in the region, similar to ventures made by other Sri Lankan power producers.
While SIRA's sole client in Kenya is the government, with its drive to make the country a middle-income industrial powerhouse in the coming decades, the operations in Fiji—where there is currently a monopoly in cable manufacturing—are geared towards private sector sales.
"Our partners are some of the best known hardware dealers in Fiji, so we will have a large distribution network," Boralessa said.
With Fiji's duty free access to Australia, New Zealand and other pacific islands, Boralessa is expecting exports from Fiji to pick up fast.
Panditha added that while initial production coming out of the two countries will be in the lower-ranges, SIRA will be exporting more sophisticated products in its portfolio to the markets from Sri Lanka.

SIRA's exports for the first half of 2016 exceeded Rs.170 million, compared to just over Rs.50 million exported in the entirety of 2015, and less than half of that in 2014.
Boralessa noted that SIRA is seeking overseas expansions because the local market is too saturated.

"Electrification is over 90 percent. Unless they (Ceylon Electricity Board) change their method of electrification to maybe underground cabling, the market is more or less saturated," he said.
Panditha noted that the pickup in local construction however, is good for the company's water piping arm. "The future in Sri Lanka is for water, not power," he said.
Records 26% profit growth for 2Q
Sierra Cables PLC (SIRA) posted a net profit of Rs. 114.60 million for the second quarter ended September 30, 2016 (2Q17) recording a 26.38 percent Year-on-Year (YoY) profit growth. Basic earnings per share was 21 cents compared to 17 cents YoY against shares being traded at around Rs. 3.30-3.40 levels so far this week, which according to stockbroker SC Securities were at levels lower than its peers, despite SIRA's strong performance.

Revenue for 2Q17 increased to Rs. 1.10 billion from Rs. 941.91 million YoY, while cost of sales went up to Rs.839.75 million, up 16.19 percent YoY. Distribution expenses rose 57.44 percent YoY to Rs. 67.75 million.
The firm's total assets increased to Rs.3.82 billion from Rs.3.26 billion at the start of the financial year, while the net asset value per share increased to Rs. 3.21 from Rs.2.87 during the same period.
For the 6-month period ended September 30, SIRA posted a net profit of Rs. 184.13 million, improving from Rs.152.64 million YoY. Revenue increased to Rs.1.92 billion from Rs.1.60 billion, and cost of sales rose to Rs.1.47 billion from Rs. 1.24 billion YoY.
Sierra Holdings (Private) Limited owns 58.11 percent of the shares in SIRA, while Managing Director Shamendra Panditha is the second largest shareholder, owning 3.24 percent of the shares.