---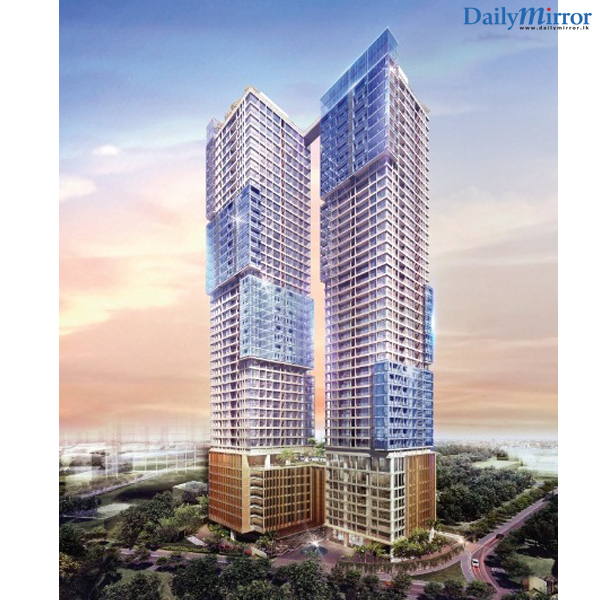 Sanken Construction is going full steam ahead with the construction of the iconic Capitol TwinPeaks and in fact is well ahead of schedule. Completing the first year of its 4-year build as one of the most coveted luxury projects in the city's upscale area, Capitol TwinPeaks at 24, Staple Street, Colombo 2, will offer the privacy and exclusivity of a purely residential project. Located on the waterfront of the picturesque Beira Lake, it offers proximity to prestigious shopping malls, hospitals, schools and all other conveniences. Capitol TwinPeaks is one of four giant real estate projects coming up along the lake, which will transform the area into the premier address in Colombo and a preferred lifestyle destination among these skyscrapers. Scheduled to be ready for occupation by end-2020, Capitol TwinPeaks is envisioned for a rarified lifestyle and no effort has been spared to extend every imaginable creature comfort for its residents.
This ambitious project is being developed by Capitol Developers, a member of the reputable construction conglomerate, the Sanken Group. All properties developed by Capitol Developers have been contracted to Sanken Construction (Pvt) Ltd., the most trusted name in the construction industry, which guarantees timely delivery of the apartments to buyers along with the hallmark construction quality of the Sanken brand.
Sanken has a reliable track record in world-class quality construction, which reflects its roots in the Fortune 500 Japanese Mitsui Construction Company. Rooted deep in the global corporate environment through Mitsui, Sanken is the pioneer and forerunner of the construction industry in the island.
The Sanken Group has over 12 subsidiaries and associate companies dealing primarily with the construction trade - San Piling, San Mech, San Trading, Mesas International, Vonlan Construction, San Ready Mix, Sanhill Engineering, City Concrete, J&S Metal Crushers and internationally with Sanken Australia and Sanken Precision (Engineering India). Backed by engineering excellence and superior quality systems, the company has become synonymous with quality construction, spearheading some of the most prominent landmark structures in the country. Gregory's Seventh Sense, On320 Apartments, Empire, Emperor, Cinnamon Red and The Movenpick to name but a few.

With the significant expansion in the international business, a fully dedicated company for international construction was formed as Sanken Overseas (Pvt.) Ltd in 2004, and it has since grown to be a multi-faceted conglomerate offering services par excellence, through the acquired expertise and innovative diversity of the group's sister companies.
Sanken is the most trusted name in the construction industry today, synonymous with timely delivery along with its hallmark construction quality.