---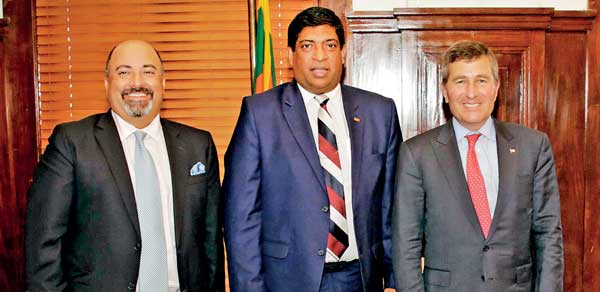 An investment- friendly environment has currently been created in Sri Lanka, the United States Assistant Secretary for Economic and Business Affairs Charles H Rivkin said during his meeting with Minister of Finance Ravi Karunanayake at the Finance Ministry recently.

The visiting State Secretary, who praised the current economic program of Sri Lanka, said that there is a friendly environment created for investment in the country. He stressed that he will take necessary steps to encourage top level US businessmen to invest in Sri Lanka.

The economic changes that have been got ground after the new government was voted to power will serve as a positive entry point for the island to face the economic challenges emerging before the country, visiting US State Secretary Charles H. Rivkin said.

The approach of the government to find solution to the huge debt trap is to attract more and more foreign investment rather than putting the burden on the people, expressing his views during the meeting, Finance Minister Ravi Karunanayake said.

As a result of the strategies introduced by the government to attract foreign investors to the country since it was voted to power last year, many foreign countries have shown their interest to invest in Sri Lanka, Minister Karunanayake pointed out.

He further stated that the discussion between the visiting US State Secretary for Economic and Business Affairs was also taken place as a result of the good governance economic strategies.
The investment opportunities will be expanded further with the agreements to be signed between Sri Lanka and international investment groups in the future. More and more employment opportunities are expected to be created once such investors start operation in the country, Minister Karunanayake said optimistically.
He further said that under such vibrant economic environment including growth of export, the economic development platform of Sri Lanka will be secured in the future.United States' Ambassador to Sri Lanka Athul Keshap was also present at this meeting.