---
The government should embrace policies and regulations to promote e-commerce and digital financial services for the country to enter into the Fourth Industrial Revolution, which would be the enabler of inclusive growth, Axiata Group Berhad CEO South Asia Region and Ceylon Chamber of Commerce Vice Chairman Dr. Hans Wijayasuriya said.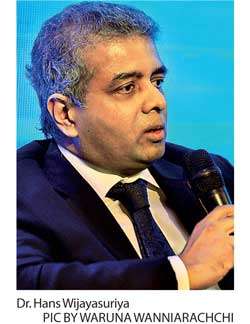 Speaking at the final session of Sri Lanka Economic Summit 2018 that concluded last week, Dr. Wijayasuriya acknowledged that the good policymaking adopted over two decades ago in the telecommunication sector enabled Sri Lanka's basic connectivity to flow and to become much more connected. He noted that Sri Lanka's mobile penetration has reached 130 percent while data connectivity has reached 50 percent.

"In the next phase, what needs to happen is that some attention needs to be given to the areas of commerce and financial services because money flows would eventually determine the inclusion, which we can drive across multiple sectors," he stressed. Dr. Wijayasuriya pointed out that the Fourth Industrial Revolution, which is driven by new technologies such as cloud and multiple methodologies, would accelerate and equalise the progress of the sectors across developing and developed countries.

"These technologies could level asymmetric across multiple sectors and we could be talking about smart agriculture, smart transportation and logistics or fisheries."

Drawing parallel with large economies such as India and China, Dr. Wijayasuriya noted that the participation of Sri Lanka's citizenry in the digital economy is limited to the 4 percent of the credit card holders while in China and India, it has gone mainstream.
He stressed that the government should bring in policies and regulations making electronic transactions less or friction-free while encouraging every citizen of the country to enter this new era.

He noted that the digital ID is the other ingredient required entering the digital economy, where the government is inching close to implementation.
"Once you have irrefutable digital ID, which cannot be forged, which is biometric, then we would find that every citizen could be incorporated in as economic entities into the larger economy; they could receive payments, they could establish their identity," he said.

Speaking of Sri Lanka's dysfunctional welfare system, Dr. Wijayasuriya pointed out that this can be corrected through a combination of electronic payment mechanisms and biometric ID system.

"We could have a situation where every single citizen has an electronic payment account and could receive subsidies.

They could establish their identity to be entitled for cheaper or free healthcare.

The money that the government invests in welfare could be targeted and directed to the right segments down to a single citizen and this I think would create an economic surplus, which could be reinvested for growth in other areas," he said.

Commenting on low levels of female labour participation of the economy, Dr. Wijayasuriya advised the private sector to be agile in terms of structuring work.

"With today's technologies, there are absolutely no reason why we can't create four-hour jobs, three-our jobs, which start in the evening, to bring back the large population of female professionals back into the workforce. I'm just giving an example. This kind of agility, which the private sector can generate, could really bridge this gap to a large extent," he pointed out. (NF)