---
Overseas Realty (Ceylon) PLC (OSEA), the local unit of the Singapore-based real-estate group, reported an earnings of 66 cents a share or Rs.811.8 million for the April-June quarter, up 6.3 percent from the same period last year, as revenue from the apartment sales of Havelock City Phase 3 could not be recognized according to the accounting standards.
Although 38 percent of the Havelock City Phase 3 apartments have been pre-sold, such revenues cannot be recognized in the books of accounts until the construction reaches the required completion level.
Hence, revenue has been supported by the apartment rental income – mainly consisting of property leasing at the World Trade Centre (WTC) Colombo – which rose by little under 11 percent to Rs.524.8 million year-on-year (YoY).
But the total revenue, which consists of the rental income, apartment sales and other services, declined by 8.0 percent YoY to Rs.595.3 million for the quarter.
Meanwhile, for the six months ended on June 30, 2017, the group reported earnings of Rs.1.38 a share or Rs.1.69 billion, up 14 percent from the same period a year ago.
The top line fell by 2.0 percent YoY to Rs.1.17 billion but the rental income rose by 8.0 percent YoY to a little above Rs.1.0 billion.
Meanwhile, revenue from other services rose by 25 percent YoY to Rs.136.3 million for the six months.
Havelock City Residential Phase 3 was launched in March 2016 and by end-June 2017 around 38 percent of the units were pre-sold. While the construction of Havelock City Phase 3 is currently underway, the pilling works for Phase 4 was completed in June 2017, the company said in a statement.
The construction of Phase 4 is scheduled to commence in August 2017. The piling works of the Havelock City Commercial Development commenced in June 2017 and is expected to be completed in March 2018.
The Phase 3 and Phase 4 of the Havelock City project are slated to be completed by end-2019 and 2020, respectively and will add 600 new apartment units.
In January 2017, the company raised Rs.7.3
billion via a rights issue to fund the proposed Mixed Development Project of Havelock City (Private) Limited, a sub-subsidiary of OSEA.
Apart from the residential component, Havelock City works on a commercial complex. The commercial complex will consist of a world-class 'A grade' office tower and a shopping mall built to international standards with a fusion of retail, dining and entertainment.
As of June 30, 2017, Singapore-based Shing Kwan Investment Company Limited held a 38.43 percent stake in the company, down from a 53.8 percent stake held in December 2016.
Meanwhile, Jiangsu Tao Shing Pee Education Foundation, an entity established by OSEA Chairman S.P. Tao, had purchased a 24.09 percent stake being the second largest shareholder.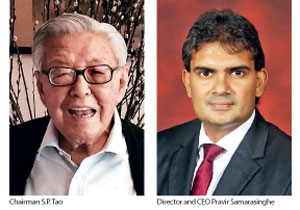 Unity Builders Limited, which held a 26.12 percent stake, had also shed its stake to 18.66 percent, losing its place from the second largest to third largest shareholder.