---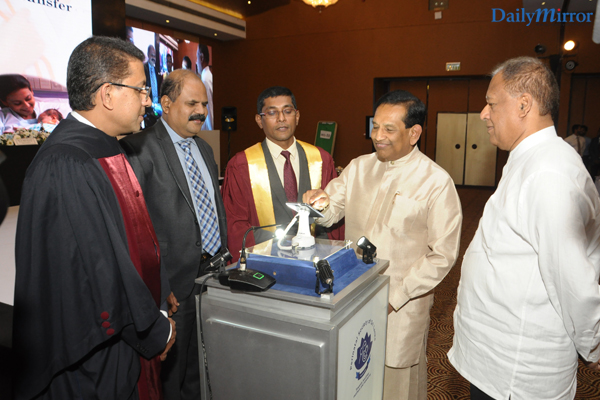 Launch of the SCOPE hotline by Hon. Minister of Health, Nutrition and Indigenous Medicine Dr. Rajitha Senarathne. Also present were President of the Perinatal Society of Sri Lanka Dr. Kapila Jayaratne, Chairman of Sri Lanka Telecom and Mobitel Mr. P. G. Kumarasinghe Sirisena, Secretary of the Perinatal Society of Sri Lanka Dr. Surantha Perera and Hon. Minister of Special Assignments Dr. Sarath Amunugama.The National Mobile Service Provider, Mobitel has partnered with the Perinatal Society of Sri Lanka (PSSL) to launch the SCOPE hotline, which enables peripheral level consultants and Medical Officers to connect with senior
paediatricians, obstetricians, and community physicians by dialling the dedicated hotline. Targeted at Junior Medical Officers or peripheral level clinicians, this initiative is part of Mobitel's CSR effort and aims to provide instant expert advice in emergencies or difficult situations. The SCOPE hotline will assist Junior Medical Officers to connect with senior doctors when caring for pregnant mothers, their unborn babies and neonates. This service is expected to reshape maternal, fetal and new-born care and reduce mortality.
The hotline will be particularly helpful for medical staff in remote areas, for example, when a doctor in the periphery or a junior consultant encounters a difficult pregnant or new-born case. In this emergency context, he would need access to an expert on management or transfer of the patient before a critical situation arises. On dialling the dedicated hotline SCOPE, the Interactive Voice Response (IVR) system will lead the caller to the required specialty (paediatricians, obstetricians, and community physicians) from anywhere in the island. As a result, the call transfers randomly to a senior consultant in the specialized field selected. If the senior doctor is not available, the call is automatically transferred to next available consultant. Thereafter, the senior consultant will either provide expert advice or take over the case for further management. Adding further value, this service has been made available 24/7 to ensure it is of the utmost use during emergencies day or night.
Mobitel's innovative services today are enhancing communication, technology, health and IT literacy opportunities for citizens. Initiatives similar to this, target to improve the efficiency in emergency situations in the medical sector using a digital platform thereby giving everyone access to information and support.