---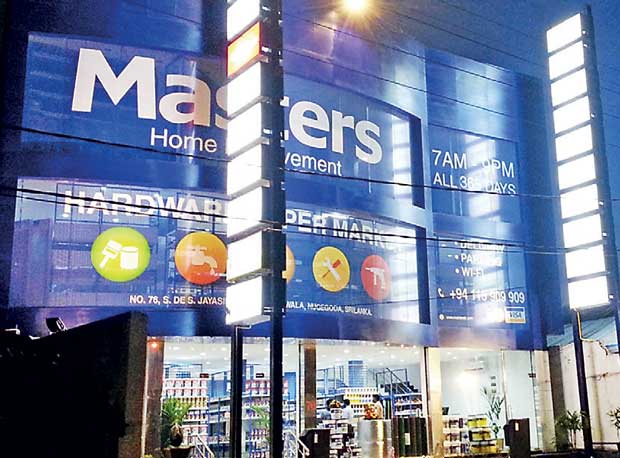 Going in search of hardware and tools is known to be both time-consuming and taxing for the regular customer. Masters Hardware Supermarket which recently opened its doors has revolutionized the way we shop for hardware and tools making the process easy and hassle free.
Located at Kohuwela, the Masters Hardware Supermarket goes on record as being the first ever supermarket of its kind in the country dedicated to paints, electrical and plumbing products, power tools, hand tools, safety equipment, hardware, construction materials and tools, inclusive of products from all leading suppliers in the country.
"We know by experience, how difficult it is for customers to locate products and we often have to go from one store to another simply because the local hardware store would have limited options. This store houses all of those hardware materials under one roof, making it convenient for customers to simply come, browse, pick up and go," said Harendra Perera, Director of Masters Home Improvement (Pvt) Ltd.
The Masters Hardware Supermarket caters to clients who would like to have as many options but find it difficult to search and shop for hardware products from their local hardware store. In order to deal with busy schedules and
long working hours, the supermarket is open on all seven days of the week from 7am to 9pm so that it can cater to customers better.
"Unlike many other hardware stores, which often do not have credit card facilities, Masters Hardware Supermarket accepts credit card payments for all purchases, a relief to the customers who will not have to bring cash for larger purchases. Our management is also engaged in discussions with several leading banks to offer further benefits to the clients. This will be introduced in the very near future", Perera added.
The Masters Supermarket is an interesting showroom, spacious and accommodating. Most of the varieties of all leading brands on offer are cleverly presented so that customers can pick and choose which brands to buy. A website for the supermarket will be launched in the near future which would allow customers the greater flexibility of making purchases online. The store will also offer delivery to the customers' doorstep at a reasonable fee.
"Retail marketing has become the global trend and of the 10 leading retailers in the world, the 07th place is occupied by Home Depot of USA which is a hardware retailer. We are hoping to fill this void in Sri Lanka
and we're confident we can do it," Perera concluded.