---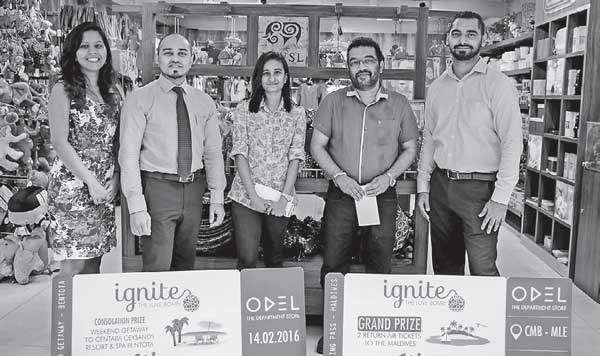 Valentine's Day may be over, but the romance it celebrates will be heightened for a lucky couple that will soon be holidaying in the idyllic Maldives courtesy of Sri Lanka's favourite department store chain ODEL. Subramaniyam Rajah was the winner of the grand prize of two return tickets to Malé in ODEL's 'Ignite the Love Bomb' promotion which rewarded shoppers who made purchases for Rs 5,000 or more between 5th and 14th February 2016 at ODEL's flagship store at Alexandra Place.
Five other couples will also enjoy an extension of the essence of Valentine's Day with weekend getaways at the Centara Ceysands Resort & Spa at Bentota – the 'consolation prizes' in this exciting promotion. Additionally, holders of ODEL Loyalty Cards who qualified for the draw at ODEL Alexandra Place over the Valentine's Day weekend were provided an opportunity to play a game of 'Love Roulette' at which they won instant prizes of gift vouchers, soft toys, cupcakes and loyalty points. "ODEL is the first choice when shopping for a gift for a loved one, and we expand our offering every year to cater to Valentine's Day shoppers," a statement from the company said. "We were delighted to once again join in the celebration of romance with this promotion and are most encouraged by the response of our customers.
" ODEL stores fulfilled the needs of Valentine's Day shoppers this year with an extensive range of clothing, accessories, confectionery items, photo frames, soft toys, ornaments and cushions with the day's signature red dominating the colour schemes.
An iconic home-grown fashion retail brand, ODEL and its spin-off 'Luv SL' form a chain of 22 stores that are elegant and charming. The company's flagship store at Alexandra Place, Colombo has been compared to Harrods and Harvey Nichols, and come to epitomize the definitive lifestyle and shopping experience in Sri Lanka.