---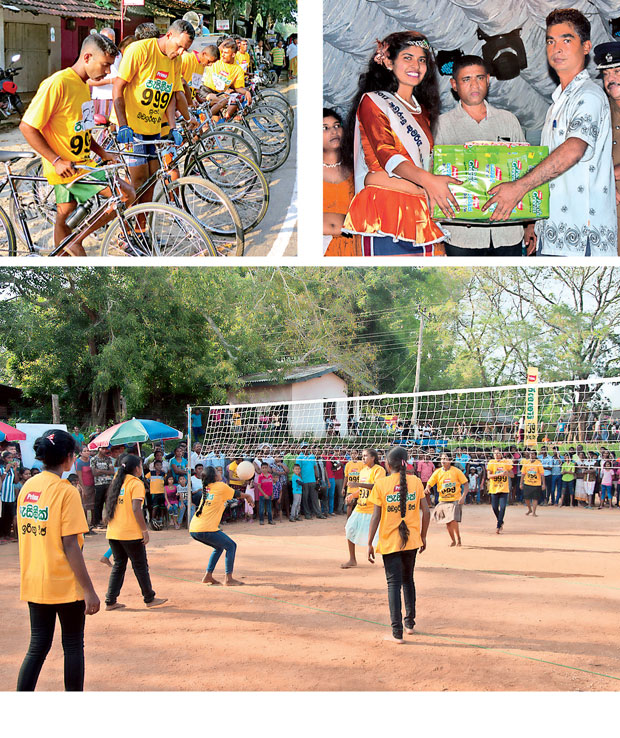 April 2 was a special day at Lotus Grove in Dehiwela when its residents, their families and friends heralded in the New Year celebrations with the annual LG Aluth Avurudu Sports Day.
Lotus Grove is the oldest and one of the most exclusive gated communities in the suburbs of Colombo. The location consists of 150 residences and is home to over 125 families and more than 750 adults and children.
There was a carnival atmosphere at the gaily decorated venue as over 50 children between the ages of three to 16 took part in a variety of contests throughout the day cheered on by friends and family.
The residents and guests were welcomed to the event with the sound of traditional music and the chief guests, Mr and Mrs Jeyabalasingham, were greeted in the traditional style accompanied by the beating of the rabane by the ladies of LG.
The programme for the day began with the races in the under five age group with the tricycle race and sprint events. It was then the turn of the under nine sprint events and cycle races for boys and girls.
The competition stepped up a gear when the under 12s got onto the tracks in the boys' and girls' events. The highlight of the track events was the under 15 competition where some potential national stars were seen in action in the 100 metres. This event ended in a photo-finish and provided some pulsating moments even for the judges.
After a brief break for some kiribath and a delicious range of the traditional rasa kavili it was time for the traditional Avurudu games. There was plenty of excitement and lots of laughter as the children demonstrated their skill at the lime and spoon races, tried to hit the kanaa mutti and filled their stomachs in the bun-eating contests.
The children were having so much fun that the adults too were tempted to try their hand at the kanaa mutti and enjoyed limited success much to the delight of the children. Soon it was time for the more serious contests and the LG men were on show in a keenly fought tug-o-war.
The finale for the day was the selection of the Avurudu Kumari and Kumaraya with the children parading in their beautifully crafted outfits to vie for the big prize.